For Officers, By Officers: 212 Tactical Belt Clip
The tactical belt clip is the comfortable, convenient, and durable alternative to the standard plastic clip for your drop rig
---
For cops, by cops: The Tactical Belt Clip
Business Name: 212 Tactical Designs
Product: The 212 Tactical belt clip
Officer / Department: Officer Rolland of the Ventura County Sheriff's Dept.
Website: 212TacticalDesigns.com
 
What is your signature product?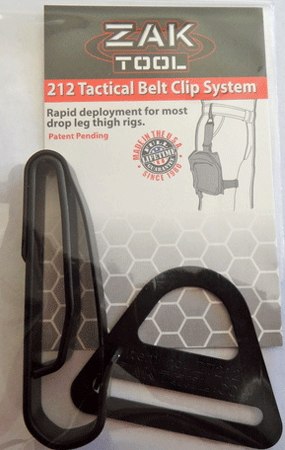 The 212 Tactical Belt Clip, which is a custom designed steel belt clip for your drop rig.
Where did the idea come from?
About 12 years ago, Rolland had just broken his second quick release buckle on his thigh rig ammo pouch. He thought, "there has to be a better way," so while sitting in his unit he looked over and saw the seatbelt buckle. He grabbed it to see if it would latch into his "Zak Tool" metal key holder clip. It roughly worked.
If you're wearing the standard 3-prong plastic clip under your belt, it can be really uncomfortable because it isn't flexible. It can also pull on your duty belt, and makes retrieving whatever is clipped to it a hassle. There are about 20 companies who all make the exact same design, so Rolland designed a steel triangular clip to replace the plastic belt clip. 
How did that idea turn into a product?
Rolland asked a friend at a machine shop to produce the clip for him, and he started using it at work.  He had his friend make more and gave them to everyone in his department. Then the owners of Zak tools saw it and made a prototype. They brought it to SHOT Show, where it was very well received. 
How does it work?
The steel triangle clips onto your duty belt and attaches to the nylon strap that carries your gas mask, your firearm thigh rig, or whatever else you happen to have on you. The clip only takes up a ½-inch on the belt, in comparison to the 2-inches the plastic clip takes. The smaller space allows bags to stack onto one another, or you can put your keys over a bag. 
The clip allows you to adjust the length so that your bag is closer to your waist rather than having that weight near your knee, which is more beneficial if you're running.
The clip, much like a karabiner, or hiking clip, can be unlocked using just one hand, which makes a huge difference in emergency situations.
"Say you have an active shooter and you're grabbing your armor pouch—with the plastic clip, you had to let your rifle go because you had to look at the buckle, and use both hands to open it," explains Officer Rolland.
With the tactical belt clip, you don't have to take your eyes off the situation at hand, and you don't lose any time.
The clip also pivots, allowing flexibility in situations where you may need to squat down, for example. It doesn't pull on your duty belt or move your gun belt in any way.
How did you test it out? 
The clip has been tested to carry 200 lbs worth of metal weights. Its plastic equivalent breaks before it reaches that point. Though Officer Rolland hasn't experienced a steel clip breaking, they come with a lifetime warranty.
Where can you purchase the tactical belt clip? 
The clip is available just about everywhere. It's sold on eBay, Zaktools.com, 212TacticalDesigns.com, and most tactical equipment stores.
What does the future hold for the belt clip? 
A muted version of the clip is in the making, wrapped in rubber so that the metal doesn't make as much noise.
It's also available for 2 ¼-inch duty belts, 1 ¾-inch belts, and molle.