Avon Protection Systems to Return to the 2010 US National SWAT Championships as Founding Sponsor
Tulsa, Oklahoma — Avon Protection Systems, a leading designer and manufacturer of respiratory protection products, will once again provide state of the art respiratory protection products to be used at the 2010 US National SWAT Championships (USNSC) held June 21-26 at the US Shooting Academy in Tulsa.
The US National SWAT Championships is the premier competition for SWAT teams from across the country to test their skills in friendly competition as well as receive cutting-edge training. The competition consists of eight live-fire events over the course of three days. All eight stages are modeled after real life scenarios.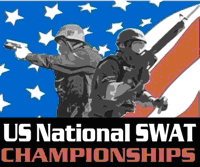 The signature Avon Barricaded Gunman event will feature Avon Protection System's FM53. In this stage each team must enter a shoothouse by breaching a door, deploying a flash-bang distraction device, then clearing each room as they look for the barricaded gunman, all while wearing full tactical gear, including the FM53 air purifying respirator.
The FM53 tactical mask enables users to operate the mask in all recognized modes of Respiratory Protective Equipment. A patented Variable Resistance Exhalation Unit (VREU) allows the mask to function as a negative and positive pressure mask system. Users can easily rotate the VREU Lever to switch between negative pressure and positive pressure modes. This allows the FM53 to function as a stand-alone APR, or as an SCBA, PAPR or CCBA.
"Avon's continued support of the competition shows their dedication to law enforcement training. Avon's personal protection equipment provides top-notch protection that these SWAT teams really can't afford to be without," said Rick Porter, Director of Competition of the USNSC.
The USNSC is owned and managed by Advanced SWAT Training, LLC, an Arizona company specializing in tactical team training for law enforcement and military agencies.
About Avon Protection (www.avon-protection.com)
Avon Protection, an Avon Rubber p.l.c. company, is a world leader in the design, development and manufacture of CBRN respiratory protection equipment. Avon has been supplying respirators to the UK Ministry of Defence and other NATO allies for more than 80 years and is the sole provider of military respirators to the US armed forces, supplying the M50/JSGPM (Joint Services General Purpose Mask.) With new conflicts and threat scenarios creating additional daily risks for individuals in military, law enforcement, corrections, and first responder communities, Avon Protection maintains a market leading position by investing in continual research and development to meet changing operational requirements of elite end-users.
More information about the US National SWAT Championships and Avon Protection Systems can be found at www.nationalswatchampionships.com and www.avon-protection.com.