PRESS RELEASE
BlackHawk Acquires All Season's Apparel and Announces Expansion of U.S. Manufacturing
---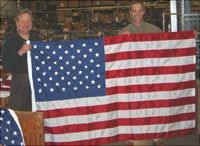 Mark Gantar (lef) and Clif Cook holding an American flag that just came off the production line.
Mike Noell, CEO and President of
BlackHawk Products Group
, Inc., announced the acquisition of the manufacturing assets of All Season's Apparel, Inc. of Post Falls, Idaho. "The manufacturing capabilities of ASA will be merged with our current U.S. cut-and-sew manufacturing and relocated to the East Coast. During this transition, key ASA management will immediately enhance our capabilities in our North Carolina factory," stated Noell.
"When we acquired Jungst Scientific a year ago, we really bought capabilities," Noell continued. "We then expanded those capabilities and merged them with our Delta Design acquisition. The result was a unique set of core competencies that have resulted in two industry breakthroughs: CQC Serpa Holsters and the Night-Ops Gladius illumination tool. We intend to use that same strategy with this acquisition. All Season's Apparel not only has experience in making tactical gear, but has experience in manufacturing jackets, vests, pants, sleeping bags, high performance underwear, and other clothing and has done so for a long list of national and international customers. Our initial strategy is to stay focused on our core business and immediately ramp up our cut-and-sew tactical gear capacity. However, it is clear that ASA's experience and capabilities will greatly influence our future product offerings."
Clif Cook, Vice President of R&D and Manufacturing, commented that Mark Gantar, the founder of All Season's Apparel, Inc., will become BlackHawk's Director of U.S. Cut-and-Sew Manufacturing and will be relocating to the East Coast. "Mark founded ASA in 1984. Over the past 20 years he has performed thousands of time and motion studies and operational breakdowns, computerizing that data and creating a highly engineered factory using these standard data sets. BlackHawk will immediately ramp production by leveraging our current U.S. cut-and-sew facility and will in parallel relocate the Idaho factory. This will ultimately give us one of the highest-capacity U.S. / Berry Amendment-compliant operations in our industry," concluded Cook.
About BlackHawk
BlackHawk, founded in 1993 by President and CEO Mike Noell, is recognized as the world leader in supplying tactical equipment to the military and law enforcement markets. Mike was trained as a US Navy SEAL and incorporated that experience and discipline in building a company dedicated to designing equipment for the preservation of life under the worst extremes.
BlackHawk Products Group was formed in 2003 to accelerate the pace of introducing new best-in-class products to the performance oriented tactical market through intensive internal R&D initiatives and selective acquisitions. BPG acquired MOD tactical knives in November of 2003. Delta Design Group was acquired in December of 2003 to strengthen and direct the BPG R&D effort. The recently acquired Jungst Scientific further expands on these capabilities. BlackHawk Products Group will make future announcements about other recent acquisitions and strategic alliances to coincide with their formal product launches.
BlackHawk is headquartered in Norfolk, Virginia with offices in Montana, North Carolina, and Idaho.