Ala. jail body scanner finds triple murder suspect's hidden shank
Jimmy Spencer is being held in solitary lockdown following the incident
---
By William Thornton
al.com
        
GUNTERSVILLE, Ala. — A man scheduled to stand trial next year for three Marshall County murders arrived this week from state prison with a weapon he brought from there, authorities say.
Marshall County Sheriff Phil Sims told WAAY that Jimmy O'Neal Spencer had a concealed shank discovered by a body scanner when he arrived from state prison. Spencer was in Guntersville on Tuesday for a hearing, where a judge ruled his murder trial will begin Jan. 10, 2022.
Deputies drove to Montgomery to pick up Spencer at Kilby Prison and bring him to Marshall County for his hearing. Spencer is under maximum security at the prison in close custody. He is now being held in Marshall County Jail in solitary lockdown following the incident.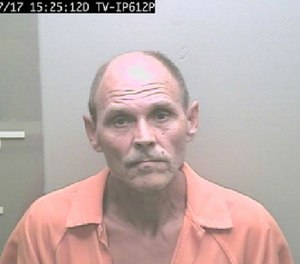 "We all know Spencer's background," Sims told the station. "We know he can be a violent person, so it's very important we find this stuff because if he gets access to this stuff and we don't know it, he could injure another inmate, injure our corrections officers."
Spencer, 55, is charged with capital murder in the July 13, 2018 deaths in Guntersville of Martha Dell Reliford, 65, Marie Kitchens Martin, 74, and Martin's great-grandson, Colton Ryan Lee, 7.
At the time of the murders, the homeless convict was a violent offender just out of prison. Authorities say Spencer strangled and stabbed Martin before taking off with an undisclosed amount of cash. Lee, they said, died from blunt force trauma.
The boy and his great-grandmother were found dead that Friday at her Mulberry Street home. Reliford - also killed by blunt force trauma - was found dead in her home across the street the same night.
Investigators said she was hit with the flat side of a hatchet, stabbed and robbed.
©2021 Advance Local Media LLC.
McClatchy-Tribune News Service
Request product info from top Corrections Body Scanners companies
Thank You!