How to streamline inmate visiting schedules
New online scheduling tool smooths out in-person visitation at King County Jail
---
Reprinted with permission from the King County Dept. of Adult & Juvenile Detention InDepth Newsletter
By Linda Robson
When we walked into the reception area at the Maleng Regional Justice Center on a Thursday morning, the area that would have been bustling with people lining up for in-person visitation with inmates just a few days before was now as vacant as a ghost town, the blue-white glow from the video visitation kiosks and the vending machines casting an almost eerie pall on the empty room.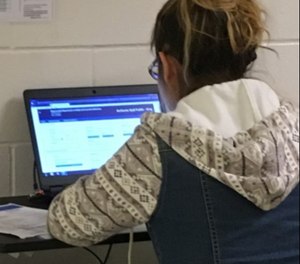 "Oh, even just a few weeks ago, there would be times during the day when you'd have people lined up out the door," said Terri Tewey, business fiscal specialist at the King County Department of Adult and Juvenile Detention.
It turns out that just a little bit of technology can go a long way in smoothing out jail operations. The empty reception area is thanks to an online scheduling tool for in-person visitation at King County's two adult detention facilities, launched first in December 2017 at the Maleng Regional Justice Center (MRJC) in Kent, Washington, and then a few months later at the King County Correctional Facility in downtown Seattle.
According to the department's Chief Financial Officer Vicki Day, it was a move that's been a long time coming, but definitely was worth the wait. "People really like it a lot better," said Day. "The whole idea is to offer the public more options, more access, cheaper access, and at the same time offer our staff smoother, easier operations, and a more predictable schedule."
A web-based scheduling program sounds like a deceptively simple bit of tech, but the rollout of this new online scheduling tool was several years in the making, and the project had several fits and starts before finally crossing the finish line and going live at the MRJC a little more than a year ago. Launching the online scheduling tool was actually part of the contract awarded to Securus in 2015, but it wasn't until Securus acquired a company called Archonix Systems that the platform was finally available to implement that part of the contract.
On the department's side of the equation, the project also bounced around between a few different staff members before finally landing on Terri Tewey's desk. "For me, I'd done the video visitation part (of the Securus contract), and this was the last piece, so I wanted to see it through," said Tewey on her decision to adopt the project herself. "I also knew that the director wanted this to happen."
For his part, the department's director at the time, William Hayes, was glad to see the project rollout had finally arrived. "Actually, I wanted this part more than the video visitation because of the obvious operational benefits," said Hayes, now retired as well. "I always knew this was the way to go."
In just a matter of weeks, the technological investment was already paying dividends. The empty reception area bathed in dim blue light was proof positive that it was working.
"Before, the public used to come in same-day, based on a schedule," said Tewey. "They would say, 'I'm here to visit this person,' and then they'd have to stand in line and wait until a booth was available, if there ever was one available, and they had to wait while their warrants and no-contact orders were researched and all of that. Now, they just have to show up 15 minutes before their visit time and put their stuff in the lockers and just go through, because they've already been run for all that stuff the night before."
The old system limited visiting hours based on an alphabetized schedule – a schedule that could be difficult to understand and adhere to for family members and loved ones. The new system allows visitors to schedule in advance, and is no longer limited based on how the last name of the inmate is spelled.
"You know, we'd have a lot of people complain that their visits were only one day during the week and their family could only come on the weekend, or vice versa," said Day, "but now they can come anytime, and they can reserve up to two weeks in advance."
Tewey adds, "The benefit is that they know they have a scheduled visit at a certain time on a certain day, where they didn't know before if they could even get in."
The benefits of the new system are big, and they're not just logistical improvements. The new online scheduling system has improved the overall mood and stress level for everyone involved.
"Sometimes, you'd have grandma taking three buses to get here to visit her grandson, and then she gets here and she can't get in and get a visit time. Or she came on the wrong day. There was a lot of that," Day said. "And confusion – like 'Is it the letter of their last name or my last name?' Or they'd miss the time; that kind of thing."
Day said, "Imagine how you'd feel if you came from Eastern Washington to visit your kid, drove five hours to get here, and they said, 'No, his day's not for three days.'"
Tewey added, "Yes, yelling at you because they traveled for hours and now can't get in."
The new system has added a lot of flexibility for visitors, and the speed and ease of check-in has reduced the anxiety and tension that before could easily boil over into confrontations and heated exchanges with staff. Both visitors and staff members have noticed the difference.
"The visiting control officers have so far been really positive. Those are the staff members who are impacted the most by this," said Tewey. "There's not a big crush of people at one time waiting to get in, and getting angry when they can't."
When asked if he'd seen an improvement in how in-person visitation runs on a daily basis, Officer Chris Santos said, "Oh yes, this is much easier."
"On first shift we get a lot of professional visits," he said as he stood next to the idle screening station in the vacant reception area. "This system makes it a lot easier to manage both them and (family visitors) at the same time."
Beyond controlling the basic flow of in-person visits at King County's two adult facilities, the new system also gives staff the capability to track the visits an individual inmate receives, and to make sure no one is getting more than their fair share of face time with their loved ones. It means the new system makes visitation not just more efficient, but also more fair and equitable.
"We wanted to be able to track window visits on the administrative side," explains Tewey. "We're trying to track and limit visits, and we couldn't do that before. It means that someone can't come in and get 10 visits in one week when they're not supposed to, and then they're taking up those 10 slots and other people can't get visits because there aren't any slots left for them."
"It's an automated way of being able to track visitations to make sure they're not getting more than they're allowed," added Day. "It makes it fairer."
Beyond ensuring that visitation is evenly distributed, the new technology also improves the fairness of the overall jail system, and breaks down the barriers of distance and income that can stand in the way of inmates keeping the family connections and support systems they'll need when they return to the community.
"From a social equity and social justice perspective, it really kind of levels the playing field," said Day. "Providing access to the community that's free and convenient is huge. It's the public access that's the big thing."
Even when the barrier to access is the use of technology itself, the department's project staff made great strides and worked closely with the vendor to make sure that people have multiple avenues to access the online tool and get help when they need it.    
"You can use a computer, a tablet, a smartphone – really any mobile device, because it's done through a simple website," said Day. "If they don't have a phone, they can go to a library and use the computer." There's even a small laptop computer station in the MRJC reception area that the public can use that was set up specifically to give people access the tool and schedule their in-person visitation appointments. "They can come here to the laptop, or they can do it from home."
Day continued, saying, "We (also) get a lot of elderly people who don't have an email address, so we've had people here help them set up an email address" to access the online tool. For those who simply don't have the computer skills or wherewithal to do it themselves, customer service staffers can assist them with the web tool and get their account set up.
"I think it says a lot about the department and the county that we are working to try and make it more user friendly and provide more access to the public," said Day.
Officer Kurt Hansen noticed the difference in the operation and in the attitude of visitors. "They used to be lined up out the door," he said. "And it could get complicated at the end of visiting hours. Sometimes it would be 9:45 p.m. before a booth would open up, so the person finally gets checked in and sent back to the booth, and then five minutes later we're telling them they have to end it because we're closing, and they're yelling, 'I just got here, I'm not done!'"
"Now, you just walk up, go through the metal detector, over to the window, get your booth, and you're on your way." Hansen said the new system makes the operation a lot more predictable now, and it makes the interactions between officers and visitors a lot more predictable, too.
Officer Santos summed it up with just two words, a gleam in his eye, and a flash of a smile: "I approve."
---
About the author
Linda Robson is a communications specialist with the King County Dept. of Adult & Juvenile Detention in King County, Washington.

Request product info from top Corrections Inmate Visitation & Communication companies
Thank You!