SC corrections department expects $29M budget deficit
State considering early inmate release program to offset deficit
---
By Jim Davenport
Associated Press
COLUMBIA, S.C. — South Carolina Gov. Mark Sanford balked Tuesday at ordering the early release of nonviolent inmates to ease a $29 million deficit at the Department of Corrections. Instead, he said there needed to be consensus among all three branches of state government before any prisoners are set free early.
The governor's comments came during the state Budget and Control Board meeting. The panel cleared the way for the prisons agency to spend more money than it has. It's the third time in three years the prisons agency has run short of cash as budget cuts have taken a toll on its operations.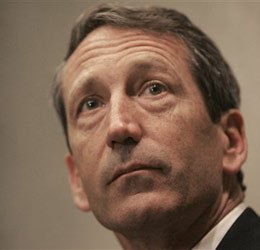 Senate Finance Committee Chairman Hugh Leatherman, a budget board member, told prisons director Jon Ozmint that state law already allows him to release inmates early.
"I tell you, at some point in time, we've got to come to grips with this," said Leatherman, R-Florence. He pointed out that the prisons deficit is being made up by other agencies that have also had to cut spending.
Ozmint said he didn't have the power to release inmates early.
"If there are nonviolent inmates that we could release, I think we would be willing to release them if we had the statutory authority to do that," Ozmint said.
Ozmint reports to Sanford, the financial oversight board's chairman. Sanford said legislators need to sign on to any early release plan. "What we would look for is clear indication from the legislative body" about handling violent and nonviolent offenders, Sanford said.
And even if state law allows early releases, "that wouldn't be the only driver for us," Sanford said. Victims rights need to be taken into account as well the punitive nature of prison sentences, he noted.
If early releases happen, Sanford said that would only be while "holding hands" with the Senate and House and should be a part of a review of sentencing and alternatives to prison.
"I don't think any one branch wants to take a unilateral step," Sanford said afterward. "I think there needs to be consensus among the judicial branch, executive branch and legislative branch."
Releasing inmates early wouldn't be politically popular and legislators may be leery of that with every House member up for election this year. Sanford, who is limited to two terms, leaves office after his second in January 2011. "I'm not worried about the political heat one way or another," he said.
The $29 million prisons deficit doesn't mean offenders should be released early, said Laura Hudson, executive director of the South Carolina Crime Victims Council.
"I suggest they find a cheaper way to incarcerate them - like they do in Arizona. They put up a hurricane fence and they put them in pink jump suits in tents," Hudson said. "I think that'd be a good idea."