DeSantis' new 'thigh hide' holster designed with ladies in mind
A soft neoprene construction offers custom-fit comfort that will work with most small frame revolvers or automatics
---
By C1 Staff
DeSantis Gunhide's new firearm holster, the 'thigh hide,' was designed by women, for women.
A soft neoprene construction offers custom-fit comfort that will work with most small frame revolvers or automatics.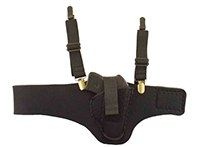 The holster has a tight Velcro seal and twin garter straps to ensure that the firearm remains in place.
Retailing at $79.99. For more information, check out DeSantis' website.