Shooting Accessories from Redman Tactical
---
By Josh Landers,
Police Marksman Magazine
To subscribe to The Police Marksman
Visit their Website or e-mail the editor at Connie@PoliceMarksman.com
Redman Tactical started with Stu Sattler's now-famous sniper bean bags. These bags are used as rear rests for rifle shooters. They are made from 1000 denier Cordura, as are all of his products, and are filled with waterproof poly beads. The strap on the side can be customized with your name and unit patch. The tube design of the bag makes it easy to make fine adjustments while in the prone position by just rolling it forward or back slightly to get the proper elevation. Once you're there, I've found that squeezing it together with your offhand helps lock it in place and will increase your accuracy.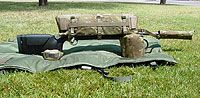 Stu also now makes several other items worth mentioning. After the success of his bean bags he had a few requests for a larger version. This spawned what is now called the tactical pillow. It is basically the same as his smaller bean bags - just bigger and can be used like a sand bag for a front rest but has a much higher CDI factor. As is obvious from some of his designs, Stu is a real deal shooter. Many of his ideas have come from his own experience shooting long range rifles, and from his close friends who are either military or law enforcement snipers. Because of this, Stu not only makes his own designs but will modify other products to improve them.
One of Stu's modifications is to fix one of the common problems with after market stock packs. These stock packs are a must-have accessory for those who do not have an adjustable stock, but for a lot of people they still don't raise your head up enough to the proper level to get correct positioning behind the scope. Stu uses closed cell foam padding and will open the stock pack up, slide the foam in and then sew it back together to look brand new. All you have to do is decide how much you want to raise it up. Stu has several different sizes of padding available to fit every application. Stu's latest creation is a padded scope and muzzle cover. There are a few companies that already make something similar, but most of them are not long enough to fit the bigger scopes such as a Nightforce NXS or a USO scope with the longer sunshades. The Redman Tactical cover is also reversible which is something nobody else offers.
Just decide what your needs are and pick two colors for two different environments. These items are the current offerings of Redman Tactical that are standard and normally in stock. However, if you have something special in mind Stu also takes on custom work. Redman Tactical offers several items that will benefit the long range shooter and if you don't see it Stu can probably make it.