GA Precision Rifles - Unparalleled Accuracy, Unmatched Quality
By Sheppard W. Kelly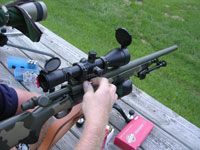 Several months ago, I was searching for a precision built .308 bolt action rifle for ammunition testing for my law enforcement writing assignments. I wanted a contemporary rifle with the highest accuracy level available in a realistically usable law enforcement rifle. Jeff Hoffman, President of Black Hills Ammunition provided guidance. His answer-"George Gardner, GA Precision, Kansas City, Missouri. He's not that far from you, you won't find a better rifle, a better operation and a nicer guy. Let me know what you wind up with. He's built rifles for my daughters, my wife and me as well as my LE colleagues, and they shoot so well it's scary." Thus, the acquisition was set in motion. While picking up my custom rifle, I was able to tour his operation and watch a myriad of rifles being precisely handcrafted.
George Gardner was a North Kansas City, Missouri police officer who also served as a tactical team precision rifleman. He started building rifles for LE precision applications when he could not find suitable off-the-shelf rifles. He started GA Precision in 1998 building rifles in his off-duty hours and after his retirement, began full time. GA Precision employs several school-trained gunsmiths who have precision rifle shooting backgrounds. Some are active competitors in various long range and tactical rifle disciplines. The gentleman who built my rifle, Jeff Hayes, gave us a tour of their operation and outlined the particulars of the GA Precision base tactical rifle:
a new Remington 700 action is used and completely trued-action, action threads, bolt lugs, bolt face
a Badger Ordnance precision ground heavy recoil lug is installed
a hand lapped match grade Rock, Schneider, Obermeyer or Broughton barrel is installed either with 11" or 11.25" rifling twist, with either 5R rifling or 5P(polygonal) rifling in the Schneider
chamber cut to minimum dimensions
barrel crowned with a recess target crown
barrel and action finished in black Teflon or other color Cerakote finish
pillar bedded with Marinetex in a McMillan stock
Numerous 'add ons' are available to enhance the base rifle, which is guaranteed at 1/2 MOA with Black Hills match ammunition. GA Precision uses all Badger Ordnance accessories. My rifle had the following options added:
steel Badger trigger guard
custom SSG style tactical bolt knob
Badger Ordnance 20 MOA M1913 scope base
My rifle was finished in O.D. 44 Cerakote color and the McMillan M40A1 USMC style stock was done in the GA Precision camo pattern, with sling and bipod swivel studs installed. I specified and received a precise 2.5-lbs. trigger pull. While touring the facility, I couldn't help but notice the intensity with which the gunsmiths were building these rifles-these folks were serious! Critical operations such as barreling and chambering, action and barrel bedding were done in a deliberate studied way. There weren't any coffee breaks in the middle of an operation. When I was presented with my rifle, the precision instrument I held in my hands overwhelmed me. And when Jeff gave me the barrel break-in target with the last 3-shot 100 yd. group with Black Hills 168 gr. match ammunition going .116" center to center, I was speechless. I've owned and shot some highly accurate rifles over the years-this is the most accurate centerfire rifle I've ever owned. Now the question was how well would I be able to shoot it?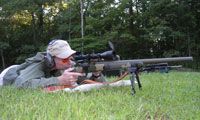 On the Range
After equipping the rifle with a Leupold 4.5-14x50mm long range tactical scope in Leupold MK4 rings, and receiving a supply of both 168 and 175 SMK loaded Black Hills 308 match ammunition, I worked the rifle from 100 to 300 yards, (my range distances) from the bench and prone, both with bagged rests and from a bipod. The 5-shot 200 yd. group, shot in low light from a bipod, measuring .51"x.47" with 168 gr. match ammo, speaks for itself. This was representative of what I came to expect from this rifle- this type of grouping, plus precise point-of-aim/point-of-impact cold bore shots. The GA Precision base tactical rifle is not inexpensive. It couldn't be, given the workmanship and materials that George Gardner and his team puts into the rifle. However, these are serious rifles designed for serious missions. For that work, I consider them priceless.