New rail for Remington and Mossberg guns creates rigid mount for optics
The 9 ½-inch rail attaches to both the High-tube stock adapter and directly to drilled and tapped receivers for a completely rigid mount for optics and other firearm accessories
---
By C1 Staff
Mesa Tactical announced their release of receiver-length MIL-STD 1913 Picatinny rails for their High-tube telescoping stock systems for Remington and Mossberg pump action shotguns.
The 9 ½-inch rail attaches to both the High-tube stock adapter and directly to drilled and tapped receivers for a completely rigid mount for optics and other firearm accessories.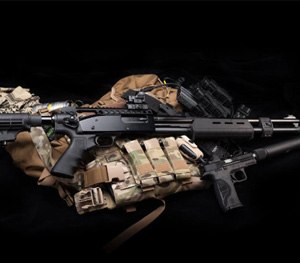 The combination of the rail and cheek weld height makes it compatible with AR-configured optics like holographic sites.
The rail for the Mossberg 500 is configured so the tang can be engaged and disengaged safely and easily, according to the company.  
The rails can be purchased individually or as part of Mesa Tactical's telescoping stock kits.
For more information, visit MesaTactical.com