PRESS RELEASE
L-3 Communications Displays Group Launches The Next-Generation MobileVu, The In-Vehicle, Ruggedized Computing System That Redefines The Position Of Being In The Driver's Seat
---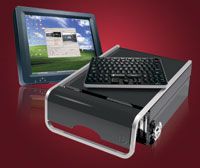 Alpharetta, GA - L-3 Communications Displays Group (L-3 Displays Group) announced today that it has launched the next generation of its MobileVu(tm) Mobile Data Computer. This next-generation product takes the successful MobileVu product line to a new level of system integration for the crime fighter by offering an affordable, completely integrated mobile data computing solution that meets current and future needs for any mobile data computer application. The all-in-one mobile data computer allows users to leverage the functions of multiple federated systems and integrate them into a single unit. With its reduced weight, space and power requirements over federated systems, the MobileVu Mobile Data Computer is in a class of its own.
"We are extremely pleased to offer our customers the most advanced mobile computer solution available," said Bob McGill, President of the L-3 Displays Group. "This solution provides users with the capability of mobile data computing, along with adding or upgrading various federated systems, such as in-car video recorders, voice and data communications, lights and siren controls and other unique functions - all within a single integrated system."
The MobileVu Mobile Data Computer is available now and product demonstrations can be scheduled by phoning the L-3 Displays Group at 866-775-5630.
L-3's Displays Group, with locations in Georgia, New Jersey and California, specializes in the design, development and manufacture of display systems, integrated mobile data computing solutions and end-to-end digital in-vehicle video recording systems for law enforcement agencies. The group consists of L-3's Display Systems, Mobile-Vision, Inc. and Ruggedized Command & Control Solutions business units.
To learn more about the L-3 Displays Group, please visit the group's web site at www.L-3Com.com/publicsafety. Headquartered in New York City, L-3 Communications is a leading provider of Intelligence, Surveillance and Reconnaissance (ISR) systems, secure communications systems, aircraft modernization, training and government services. The company is a leading merchant supplier of a broad array of high technology products, including guidance and navigation, sensors, scanners, fuzes, data links, propulsion systems, simulators, avionics, electro optics, satellite communications, electrical power equipment, encryption, signal intelligence, antennas and microwave components. L-3 also supports a variety of Homeland Security initiatives with products and services. Its customers include the Department of Defense, Department of Homeland Security, selected U.S. Government intelligence agencies and aerospace prime contractors.
To learn more about L-3 Communications, please visit the company's web site at www.L-3Com.com.