PRESS RELEASE
ASP Unveils the Talon: New Disc Loc, Button-Release Baton
---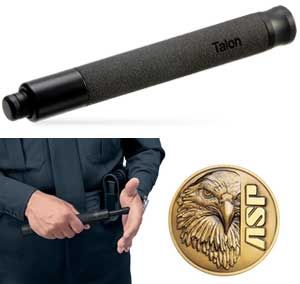 APPLETON, Wisc.
-
Armament Systems and Procedures (ASP)
, one of the most respected names in law enforcement products, has unveiled the new Talon, the company's revolutionary Disc Loc, button-release baton.
With safety, simplicity and ease of use as the driving forces behind the design, the Talon's unique features allow police officers and public safety professionals to close the baton without impact, open it in very close quarters and fully service it in the field.
To retract the Talon, officers can push the release button at the butt-end of the baton's grip with their thumb and press the tip of the shaft against their other hand, their body or the bottom of the case in which they are carrying the Talon.

"One really important feature of the Talon is that is can be closed simply by putting it back into its scabbard in one fluid motion," said ASP chairman and chief executive officer Kevin Parsons, PhD. "Retraction couldn't be more convenient."
The Talon's sophisticated yet simple design uses two opposing internal discs that secure each of the baton's shafts in place to ensure that lockout is stable and secure. It has a retention groove at the bottom of the foamed vinyl grip to improve an officer's grasp, and the Talon has fewer than 20 moving parts making it simple to maintain and fully service in the field.

"Repair of the Talon is facilitated by its totally modular design," said Parsons. "Should damage to the baton occur, it may be easily serviced by a department armorer. In most cases, there will be no need to send it to a factory or a service center."

Like all ASP expandable batons, officers can open the Talon by sharply extending it toward the ground or the sky, but they can also open it by pulling the extended tip of the baton's shaft. This allows officers to expand the baton in tight spaces, such as a vehicle while working executive protection detail.
The Talon is available in three lengths: 40 cm (MSRP $165), 50 cm (MSRP $175) and 60 cm (MSRP $180). The Talon can be carried in any of ASP's SideBreak Scabbards and comes with a lifetime warranty.

Click to learn more and watch our video.

About ASP - "Protecting Those Who Protect"
ASP is one of the industry's foremost suppliers of Batons, Restraints, Training, OC products and LED lighting. It has stood for innovative designs, flawless function and an unmatched standard of service since Kevin Parsons, PhD, founded the company in 1976. ASP holds more than 100 product patents and provides almost $2 million in free training each year to law enforcement. ASP is ISO 9001:2008 Certified. All products are designed in the United States. For more information visit asp-usa.com.