PRESS RELEASE
Phoenix Police Department Purchases 1,348 TASER X26 Less-Lethal Weapons for City Wide Deployment Upgrade
---
For Immediate Release - October 16, 2003
Sixth Largest City in U.S. Makes TASER X26 Standard Issue for All New Recruits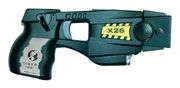 SCOTTSDALE, Ariz. -- TASER International, Inc. (Nasdaq: TASR & TASRW), a market leader in advanced less-lethal weapons, today announced that the Phoenix Police Department has purchased 1,348 TASER X26 conducted energy weapons as an upgrade to their ADVANCED TASER M26 less-lethal weapons. In addition, the department has now designated the TASER X26 conducted energy weapon as a standard piece of equipment issued to every new recruit along with their sidearm and baton.
"We have seen the benefit of fully deploying the ADVANCED TASER M26 less-lethal weapons to every patrol officer since the beginning of this year, with a dramatic reduction in the number of firearm shootings in Phoenix," stated Phoenix Police Chief Harold Hurtt. "Further we have decided to upgrade all of our existing ADVANCED TASER M26 devices to the much smaller TASER X26 less-lethal so that 'full time carry' by every patrol officer will become a reality. The decreased size of the TASER X26 device greatly enhances the ease of putting it on the officer's belt so that it's readily available when an officer needs it. In addition, we are the first major city police agency to make the TASER X26 less-lethal weapon a part of every new police recruit's standard issued equipment," commented Chief Hurtt.
"The Phoenix City Council's approval of 1,348 TASER X26 conducted energy weapons for the Phoenix Police Department represents the largest law enforcement patrol deployment of our equipment in the world," said Rick Smith, CEO of TASER International. "The impact of this order is striking, in that the Phoenix Police have embraced the philosophy of making the TASER X26 less-lethal weapons a part of every police officer's standard uniform equipment. We intend to launch a new communications campaign in Q4 entitled, 'Make Officer Safety Part of Your Uniform' to convey this philosophy to the 18,000 law enforcement agencies across the United States. I applaud the city council's decision and the Phoenix Police for their leadership in being the first department to fully adopt our newest less-lethal technology for today and for the future for every new recruit," said Mr. Smith.
Since the deployment of the ADVANCED TASER M26 less-lethal weapons to all patrol officer earlier this year, the Phoenix Police Department significantly reduced the number of officer-involved shootings from 15 to 8 over the first 6 months of this year.
Incidents of ADVANCED TASER use Officer-involved shootings (January to June)
2002: 71 2002: 15
2003: 164 2003: 8
"The City of Phoenix's purchase of 1,348 X26 less-lethal weapons (plus accessories) is valued at over $500,000 after their trade in of their existing inventory of ADVANCED TASER M26 conducted energy weapons. Although this order will not ship until the 4th quarter, over 2,000 TASER X26 conducted energy weapons were shipped during the 3rd quarter," continued Mr. Smith.
About TASER International, Inc.

TASER International, Inc. provides advanced less- lethal weapons for use in the law enforcement, private security and personal defense markets. Our flagship ADVANCED TASER(R) product has reduced officer injuries by over 80% in the Orange County (FL) Sheriff's Office, and reduced suspect injuries by over 67% in the Phoenix (AZ) Police Department. The ADVANCED TASER is saving lives, reducing liability and creating safer jobs in over 3,000 law enforcement agencies worldwide. Call 1-480-991-0797 or visit our website at www.TASER.com to learn more about the new standard in less- lethal weapons.

For further information contact Steve Tuttle, Director of Public Affairs at Steve@TASER.com or call 800-978-2737 ext. 2006.
Note: High-resolution photos available at www.taser.com/pages/pr/highresimages.html.

Request more info from Axon
Thank You!