Trial begins on using pepper spray, gas on mentally ill inmates, in Fla.
---
At issue is the constitutionality of the correctional officers' practice at Florida State Prison in Starke.
By PAUL PINKHAM
Florida Times-Union
Lost behind bars: The mentally ill in a Va. jail
The use of less lethal weapons in corrections: Chemical Agents
JACKSONVILLE, Fla. — A Jacksonville judge begins hearing evidence today about the use of pepper spray, tear gas and other chemical agents on mentally ill inmates by guards at Florida State Prison.
U.S. District Judge Timothy Corrigan is being asked to decide whether the practice is constitutional.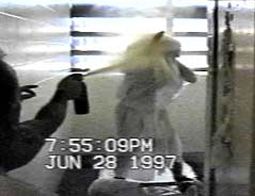 (LASD/John Stanley)
Lawyers for the inmates plan to argue that gassing confined mentally ill inmates for behavior caused by their illness is cruel and unusual punishment. They are asking Corrigan to halt the practice and require the state Department of Corrections to videotape gassing incidents and provide soap to gassed inmates.
Prison system lawyers maintain the practice is appropriate in some circumstances and that each gassing incident is unique. They've asked Corrigan to give the department latitude in maintaining order in one of Florida's toughest prisons.
Corrigan said he expects the non-jury trial to take a week and that he would rule as soon as possible after that. Constitutionality is the only issue he has to decide; individual claims by the inmates were settled previously.
The lawsuit was filed in 2004 on behalf of seven inmates at the Starke prison, only one of whom remains incarcerated there. The case was delayed by appeals and the unrelated criminal convictions of several high-ranking prison officials, including former department Secretary James Crosby, for taking kickbacks.
Attorney Buddy Schulz, representing the inmates, said gassing incidents rose dramatically after the beating death of Death Row inmate Frank Valdes by prison guards in 1999 when Crosby was the prison's warden. Gassing increased 50 percent the year after Valdes died, records show.
But Corrigan said he's less concerned about past abuses than current policies.
"I don't think my opinion would start with the checkered history of the Department of Corrections," the judge said during a pretrial hearing last week. "I would think it would start with this policy and whether it was constitutional or not."
Among the witnesses Schulz plans to call on the inmates' behalf is Elio Madan, former chief health officer at the prison. Department of Corrections attorney William Martin argued that Madan shouldn't be permitted to testify because he held an administrative position and spoke with prison lawyers specifically about the gassing lawsuit before leaving that post a year ago.
Corrigan allowed Martin to depose Madan.
Schulz also has listed several prisoners as witnesses, but said last week he probably won't call them depending on how the evidence goes.
"We just want the option," he said.
Corrigan said most of the evidence will be from medical, legal and corrections experts.
Copyright 2008 The Florida Times-Union

Request product info from top Corrections Sprays and Aerosols companies
Thank You!