Ill. federal prison officers being sickened by mailed-in drugs, union says
The union is calling for more resources, including a mail scanner, to help reduce the risk to officers
---
By Sarah Sinning
THOMSON, Ill. — Two correctional officers at USP Thomson have required medical attention in the past month following exposure to illegal drugs, The Quad-City Times reports. 
On Tuesday, an officer was opening mail when he experienced "a violent reaction," said Jon Zumkehr, president of American Federation of Government Employees Local 4070. The letter had been soaked in methamphetamine, he said.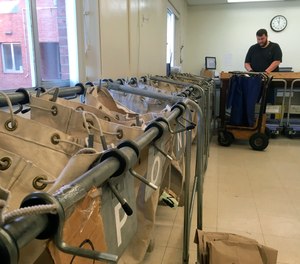 "The officer immediately started throwing up," Zumkehr continued. "He was treated at the hospital."
Another officer was similarly exposed just three weeks ago, he said.
Now, the union is asking the Bureau of Prisons to restore positions in search and shakedown teams that were cut from the hiring roster due to staffing cuts. They're also requesting the purchase of an ion scanner to help officers detect hazardous chemicals on mail.
"It would be a proactive approach that would help staff and inmates by eliminating drugs in the prison," Zumkehr said.
Drugs like fentanyl, carfentanil, K2, suboxone, ecstasy and synthetic cocaine are regularly introduced to federal prisons across the country via the mail, Zumkehr said, causing an increasing number of staff members to become sick from accidental exposure.
Request product info from top Corrections Mail Processing companies
Thank You!