Discovery TV films doctors behind bars at Cook County Jail
New TV documentary series takes in-depth look at the work of doctors behind bars at the Cook County Jail
---
CHICAGO — Cook County jail inmates get top-notch medical attention around the clock from a group of doctors who will soon be featured on the Discovery Health's new show "Doctors Behind Bars."
"If you're a doctor and you really want to serve the people who need it most, a correctional facility like Cook County jail is the place to do it," supervising producer Stacy Robinson said. "They work in a chaotic and volatile environment, and they're fearless about it."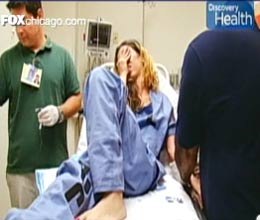 Stacy Robinson (who is Robin Robinson's sister) and the 20 West production crew spent three weeks at Cermak Hospital, the corrections hospital at 26th and California in Chicago. What they captured on camera even surprised Melissa Cutlip, a Vice President at 20 West.
"You're looking at these sweet, angelic, often very attractive young women who are in there working in this environment which at best is not very attractive," Cutlip said. "It's a shock to see that contrast."
Read the full article at myFOXchicago.com.