What to keep in your tactical first aid kit
with Fabrice Czarnecki, MD
Q: As a street cop, I know I need to be prepared to handle trauma wounds. What should I keep in my first aid kit to treat these?
Dr. Czarnecki: Police officers should carry a medical kit specifically designed for penetrating trauma (gunshot wounds and stab wounds). Such a kit can be assembled at a fairly low cost.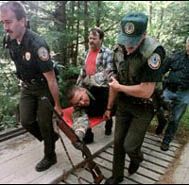 (AP file photo)
While it would be a good idea for officers to carry this small kit at all times, they should definitely carry it during high-risk activities, like warrant service and protective detail, and during firearms training (in case of accidental injuries). Contents should include:
• 2 pairs of gloves
• 1 or 2 tourniquets
• 1 or 2 trauma dressings
• 1 or 2 rolls of gauze
Gloves
I recommend nitrile gloves over latex. Nitrile is more resistant to puncture and chemicals, and do not cause the allergic reactions latex may.
Tourniquets
A tourniquet is a tightly wrapped bandage that stops the flow of blood from an artery (usually a limb) by applying pressure. Tourniquets are safe and effective in trained hands -- if applied to an extremity for less than one hour. Tourniquets alone could save 60% of all the preventable deaths from combat trauma. My preferred tourniquet is the triangular bandage (usually 37 x 37 x 52 inches). It is cheap, lightweight, and easy to deploy. A lot of people are scared to apply tourniquets, but people are increasingly recognizing their critical life-saving importance.
Trauma dressings
The key here is the ability to apply pressure to the wound, rather than just covering it and absorbing the blood. I recommend the Cederroth Bloodstopper, sold in most public safety catalogs.
Rolls of gauze
The gauze should be a sterile "disorganized" conforming bandage type, like Kerlix bandage rolls (4 inch wide preferred).
Car or team medical kit

A larger medical kit should be kept in cars or made readily available during other high-risk activities.
Suggested contents include:
• Two (or more) medical kits, wrapped separately, and used only for penetrating traumas
• Laerdal Pocket Mask™
• Coban™ cohesive bandage (self-adherent)
• SAM ® splint
• Xeroform dressing or other non-adherent dressings
• Bandage strips, tape wound closure
• 4 x 4 gauze pads
• Tape
• Elastic wraps
• Safety pins
• Space blankets
• EMT shears
• Cold compresses
• Medications: acetaminophen, ibuprofen, triple antibiotic ointment, aspirin
• Artificial tears (saline)
• Antiseptic solution
• Alcohol gel
• An automated external defibrillator (AED) is recommended to trained officers, if available.
Sources for supplies:
SAM splint
Adventure Medical Kits www.adventuremedicalkits.com
Bound Tree www.boundtree.com
Chinook Medical Gear www.chinookmed.com
Galls www.galls.com
Related Police1 article: Do you know the best tactics to help a fellow officer--or yourself--survive serious injury?
Dr. Czarnecki is the Director of Medical-Legal Research with The Gables Group, Inc., a business intelligence and investigative consultancy based in Miami, FL, and the Director of Training of the Center for Homeland Security Studies, a non-profit corporation conducting training in counter-terrorism and intelligence for domestic law enforcement. He previously was an emergency physician of the Ambroise Pare Hospital, Boulogne, France.