PRESS RELEASE
SABRE DECON: Cleanse–Step I & Soothe–Step II
---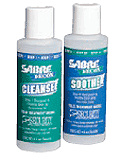 end picture
New decontamination technology dramatically reduces the effects of chemical agents
Pepper spray has been effectively used to control subjects and inmates for nearly two decades, and CS & CN Tear Gas for even longer. Chemical agents produce pain, irritation, inflammation, coughing, temporary blindness and reddening of the skin. Acute symptoms can last for several hours, depending upon individual sensitivity and dose received. An effective decontaminate serves as a very valuable and cost effective tool by reducing recovery periods and lost productivity, and increasing effectiveness on the job. A good decon product can also reduce hospitalizations, complaints and liability.
Although the need for a effective decontaminate exists, previous options have consistently fallen short of expectations. While attempting to remove traces of chemical agents from the skin, many products distribute the agents over a greater surface area, drive the materials deeper into the skin, increase irritation or do nothing at all.
Available now, SABRE DECON provides a unique and very effective two-step decontamination process. Cleanse – Step I, removes chemical agents from the skin's surface, cleanses chemical agents which have been absorbed into the outer layer of the skin preventing further penetration and stops spreading of agent over additional skin surface area. Soothe – Step II moistens the skin treated first by Cleanse – Step I, dramatically reduces the effects of chemical agents and facilitates a much faster and comfortable recovery. Additionally, SABRE DECON eliminates chemical agent reactivation which commonly occurs with exercise or bathing!
SABRE DECON is available in two sizes: Field Treatment & Training Treatment. The 4 oz Field Treatment is an ideal compact size for use after deploying chemical agents while attempting to control subjects or inmates. The training treatment one (1) gallon containers are available for training academies which decontaminate multiple recruits or in-service officers after chemical agent contamination drills.
Customs & Border Protection's Office of Training and Development tested and evaluated SABRE DECON at their training facilities in Artesia, NM and Glynco, GA and found the product to be very effective. After years of pain and agony, SABRE DECON has come to your rescue.
For more information about SABRE DECON, SABRE Aerosol Projectors or any other Security Equipment Corporation products, contact Security Equipment Corporation at 330 Sun Valley Circle, Fenton, MO 63026 (800) 325-9568 / (636) 343-0200 Or visit www.sabrered.com
• Making Grown Men Cry Since 1975! • A Clean Face Never Felt So Good! Editor's Note: For hi-res digital images, please e-mail dnance@sabre-sabrered.com.

Request more info from SABRE-Security Equipment Corp.
Thank You!