5 ways to seamlessly manage employees from hire to retire
A cloud-based HR solution can improve employee efficiency and oversight
---
Sponsored by Cornerstone OnDemand
By Corrections1 BrandFocus Staff
Human resource management efforts can be especially time-consuming and costly for correctional facilities. In addition to the necessary screening, recruiting and training, tracking, reporting data and keeping employees engaged are all important HR functions.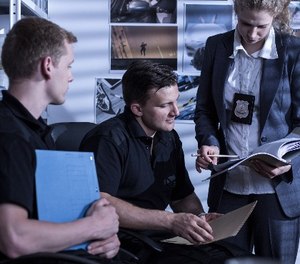 Technology can help corrections managers streamline these efforts and improve transparency. Here are five reasons why your facility should consider a cloud-based HR management solution.
1. Modernize for efficient and accurate recruiting and training
All too often, HR systems for employee recruitment, training and reporting still rely on paper and pen. This can impede the hiring and training process. A cloud-based system helps agencies recruit a new workforce through social sourcing and it automates the process of tracking and reporting employee data and training. It also allows organizations to manage all their data in one system for complete transparency.
Cornerstone OnDemand offers a cloud-based, unified talent management suite that seamlessly provides these functions. "Cornerstone helps to expedite the recruiting process and allows employers to stay engaged with potential employees during the process," explained Joseph Roche, the state and local government director with Cornerstone. "It's a more positive experience for everyone because it meets the needs of people they're recruiting, strengthens the talent pool for the department and helps ensure they retain employees."
Managing these records through the cloud also helps reduce the chance of losing critical data in outdated silo systems that aren't communicating. This makes record-keeping easy and accurate and means less logistical, time-consuming and costly work for everyone.
2. Cloud computing offers convenience and cost-effectiveness
Training and educational opportunities are often limited by available classroom space and instructors. This makes it challenging for employees to fulfill their obligations and costly to employers who must find space and instructors. Shifting to a cloud-based training platform eliminates these limitations.
Look for a provider that works with you to create focused web-based training that your employees can use at their convenience from any device. This allows your employees to complete any necessary forms and required training easily and securely.  
The cloud-based system from Cornerstone OnDemand provides an evolving library of content to ensure employees can access the most current training to meet their needs or goals, such as career development. Additionally, clients can configure automated emails to remind them when required training is due.
"Because training is available in all types of formats and on various devices, employees can access it when and where it's convenient," said Roche. "By eliminating paper, updating technology and automating processes, corrections departments can reduce costs and focus on accomplishing their mission."
3. Reliable and flexible service and support
As you look for a provider that will tailor your system to meet your objectives, make sure that all the current information and data can be easily transferred to a new operating system. And ask about their support services.  
From identifying needs and creating a comprehensive management system to trouble-shooting along the way, Cornerstone OnDemand offers clients personalized attention. They will deliver a solution that is user-friendly for you and your employees. If you have questions or need assistance along the way, their website is easy to navigate and the support team is available online or by phone.
4. Manage training options for inmates
Finding the time, space and qualified instructors to offer training programs for inmates is a unique challenge for correctional facilities. Without these opportunities, many inmates are unable to secure a job after they're released and return to the negative situations and behaviors which previously landed them in jail.
But security and safety concerns take top priority. Using a cloud-based training system for inmates, like the one from Cornerstone OnDemand, supports instruction for inmates while greatly reducing the time, personnel and security problems. With a system like this, your facility can provide opportunities for individuals to learn practical skills that can lead to employment and help reduce recidivism. In turn, this will help reduce operational costs and save taxpayer dollars.
5. Achieve compliance and reduce liability
Using a cloud-based talent management system allows corrections departments to manage all data in one place, which ensures transparency, compliance and reduces liability. This is especially critical when conducting audits for issues such as prisoner safety under the Department of Justice's Prison Rape Elimination Act (PREA).
"Cornerstone can ensure compliance with the DOJ PREA mandate by deploying a curriculum that includes training on the policy and a test that is reported back to administrators for oversight," explained Roche. "Since deploying Cornerstone, several states have achieved 100 percent compliance with PREA training and certification."
Cloud-based solutions can help corrections departments modernize their systems for recruiting, training and managing employees for greater efficiency and transparency. Consider a unified system like the one offered by Cornerstone OnDemand to manage all your recruiting and training needs.

Request information from Cornerstone OnDemand
Thank You!