Considerations when developing a jail's information system
As jail operations encompass a broad range of functions and information needs, it is important to clearly identify priorities when new technology is introduced
---
By James Careless, C1 Contributor
When it comes to information management, jails are extremely complex and sensitive operations. To maximize the safety of inmates and staff, it is vital that inmate records are complete, accurate and current, enumerating every personality tendency/risk, medical condition, and arrest that the inmate has accumulated over their lifetime.
To ensure optimal operations, staff protection and inmate morale – because relatively un-agitated inmates are easier to manage than inmates who are irate – the jail's resources need to be able to be allocated in real-time. Ideally, corrections officers should be able to see the current disposition of all resources (e.g., inmate beds and cell assignments) in real-time, and adjust those allocations as needed in response to inmate ingests, incidents and releases.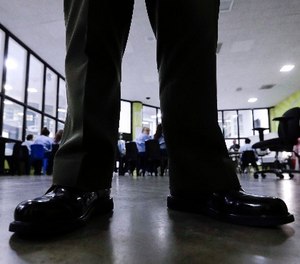 These are just some of the points that need to be considered whenever a jail's steering committee is developing its information system. Others include:
Supporting interdependent system functions, which means ensuring that inmate records received/compiled at ingest are always available to authorized personnel for updating with medical conditions, positive/negative behavior, and other data prior to release – and including preparation for release;
Prioritization of operational issues, to make sure that whatever information systems is eventually selected is configured to highlight top priorities (state of jail security, bed assignments, food/clothing/linen stocks) first;
Ease of implementation in the jail's existing infrastructure;
Ease of use and access by corrections staff, ideally through password-protected desktop/laptop computers, tablets, and smartphones;
Timely retrieval of relevant data, so that corrections officers can access whatever critical data they may need quickly in all situations;
Necessary interfaces with the institution's other systems, so that data flows freely between legacy IT equipment and the new jail information system;
Working within funding limitations, because there's no point in selecting a jail information system that the jail's budget cannot afford to buy and maintain.
Fortunately, there are software vendors who offer complete, end-to-end jail information management (IM) systems. They are worth finding and contacting for information.
The best of these IM systems manage all aspects of a jail's information requirements on a constantly updated basis. They can accept input from outside agencies, so that an arresting officer can populate and submit an incoming inmate's records directly to the jail. These same records can then be accessed centrally by authorized corrections officers, to retain every detail associated with the inmate's stay at the intuition, including:
Their specific treatments and program management;
Behavioral issues and remedies;
Visits from outside (useful in detecting contraband);
Other items associated with the inmate's history.
On a larger scale, the best jail IM systems provide jail managers with a bird's-eye view of their facility; illustrating every change in bed allocation, inmate infirmary visits, inmate-related incidents and anything else they need to know in real-time. This isn't quite the same as standing on the bridge of the Starship Enterprise and asking the computer for an update, but it can be very, very close.
The takeaway: Steering committees tasked with selecting a new jail information system need to do their homework. They should find out what vendors of jail IM systems exist, where these systems are deployed in U.S. jails, and get candid opinions from those jails as to which systems work best before making any recommendations to top management.
After all, the funding to update jail information systems doesn't become available very often. This is one job that the steering committee needs to get right the first time.
---
About the Author
James Careless is a freelance writer with extensive experience covering computer technologies.