Inmate management: What they don't teach you in the academy (eBook)
In this eBook, we review key strategies correctional officers can immediately implement to ensure they are running their facility
---
Sponsored by Tyler Technologies
Inmates are tuned in to the level of ownership you have for the correctional facility you are tasked with running. If they feel a CO is losing control, they will immediately take advantage of the situation, which can be dangerous for both COs and other inmates. The key to the successful management of inmates is being in control without appearing heavy-handed.
For a PDF of the complete eBook, fill out the form below.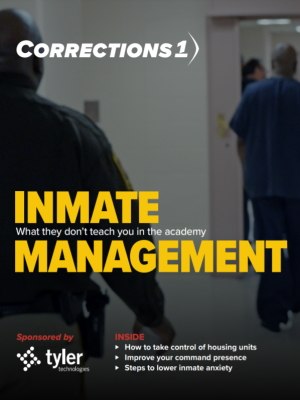 Staff ownership of a correctional facility and its rules will lead to fewer challenges from the inmate population and less time spent negotiating with difficult inmates. It will also reduce the opportunity for inmates to find weak links in the chain of command.
In this eBook, sponsored by Tyler Technologies, we review key strategies correctional officers can immediately implement to ensure they are running their facility, including:
How to lower inmate anxiety
How to take control in a housing unit, and
Improving correctional officer command presence through defensive tactics training.
To download your free copy of the "Inmate management: What they don't teach you in the academy" eBook from Corrections1, fill out the form below.
Inmate management: What they don't teach you in the academy