The aging inmate issue: Can we afford elderly incarceration?
---
By Stephanie Chen
CNN.com
HARDWICK, Ga. — White fuzz covers his bald head. His sallow skin sags. A wheelchair and cane support limp legs.
This is not the typical image of a prison inmate. But 73-year-old George Sanges is among the burgeoning elderly population behind bars, a group expected to continue to grow as baby boomers age and states implement longer sentences.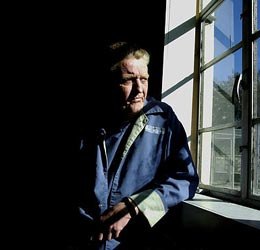 Sanges, who is serving a 15-year sentence at Men's State Prison in Georgia, has cerebral palsy and takes multiple medications twice a day. His condition has worsened since he entered prison in 2005 for aggravated assault against his wife of 48 years. Twice while in prison, he was rushed to the hospital for heart problems.
"They help me here," Sanges says. "Everybody is very nice to me."
As health care sparks debate across the nation, the prison community faces its own battle against rising medical costs. The elderly constitute the fastest-growing sector of the inmate population, experts say. It is a group that needs more frequent and costlier treatment, which states are required to provide under the cruel and unusual punishment clause of the Eighth Amendment to the U.S. Constitution.
An analysis of Bureau of Justice Statistics data found that the male prison population over age 55 ballooned by 82 percent in eight years, from 48,800 inmates in 1999 to 89,900 in 2007. The definition of "elderly" varies by state. The National Corrections Institute, a prison research organization, calls inmates over 55 elderly, and some states place inmates over 50 in that category. An inmate's body ages faster than the body of someone not in prison.
Georgia, one of the 10 largest prison systems in the country, spends about $8,500 on medical costs for inmates over 65, compared with about an average of $950 for those who are younger, corrections officials say. Across the county, inmate medical care costs about $3 billion a year.
Men's State Prison holds the largest number of sickly elderly inmates in Georgia. The medium-security facility, in a quaint rural town, is enclosed by barbed wire just like any other prison. But inside, inmates play card games and checkers rather than shooting hoops or lifting weights. The oldest inmate here is 89. There are veterans who served in World War II.
Gang fights here are rare, though there is still bickering and catfights from the wheelchair seat. Diapers, breathing machines and hospital beds wrapped in plastic for easy cleanup are visible in almost every corner of the hostel-style room where prisoners sleep.
Every inmate here has a medical condition; dementia, hypertension and diabetes are the most common, the warden says. "With the elderly population, we're beginning to run something comparable to nursing homes," says Sharon Lewis, medical director for the Georgia Department of Corrections. "This is one of the unhealthiest populations found anywhere. They really lived life hard."
In the last few decades, a growing number of prisons have improved their quality of medical care, says Edward Harrison, president of the National Commission on Correctional Health Care, an accreditation organization based in Chicago, Illinois.
Elizabeth Alexander, director of the ACLU's National Prison Project, says investigations revealed that inmates were often denied access to certified doctors in the 1970s. In some instances, inmates were providing medical and dental care to one another. There continues to be lawsuits filed against prisons and jails for providing poor medical care, she says, but overall, the care has vastly improved.
Some states, such as Virginia and Pennsylvania, have built geriatric prison facilities that resemble mini-hospitals, equipped with medical devices and oxygen tanks. Prisons are being licensed as acute-care settings with a crew of registered nurses, correctional health experts say.
Placing elderly prisoners into separate facilities or wings can help the state consolidate costs. Nearly 75 hospice programs exist in prisons -- up from less than 10 a decade ago, says Carol McAdoo of the National Hospice and Palliative Care Organization.
"I would argue that the health care that is rendered behind bars is better than what is received in the general population," says CEO Rich Hallworth of Prison Health Services, a private medical corrections company in Tennessee that serves 172 jails and prisons around the country.
To ease budget woes in California, one bill up for debate would allow nonviolent elderly prisoners to be released into hospice care or monitored with ankle bracelets. In the past few years, Georgia officials say, the state has released more frail and dying inmates on medical reprieve than ever before. Other states, including New York and Virginia, have also allowed early release of ailing elderly inmates.
But critics, including victims' advocacy groups, have scrutinized this policy. Will Marling, executive director of the National Organization for Victims Assistance in Virginia, said most victims believe offenders will strike again after they are released.
"If a person is sentenced to life, we know they are naturally going to get old," Marling said. "A life sentence should mean life."
Most of the elderly inmates at Men's State Prison in Georgia are serving lengthy sentences for crimes committed when they were younger, officials said. A "three strikes law" passed in the 1990s contributed to much of the growth in the state's geriatric prison population.
But there remains a group of elderly inmates who committed violent crimes during their golden years, proving the point that many victims worry about.
Research has shown that arrests of elderly offenders have risen. Their imprisonment has also contributed to the aging inmate population, but little is known about why the elderly commit crimes.
With his sight nearly gone, George Sanges peers through thick glasses at an old photograph from his locker. After several seconds, he slowly distinguishes his wife's face.
"That's Betty," he says.
Sanges cannot explain why he attacked his wife. He was 69 years old then, a grandfather without a criminal history.
"I got in trouble," he repeats several times. "I'm really sorry."
Copyright 2009 Cable News Network

Request product info from top Jail Management Software companies
Thank You!