Escapee charged with severely beating Mich. officer
Daniel Henry beat a corrections officer within inches of his life last year
---
Corrections1 Staff
STANTON, Mich. — A Michigan prisoner charged with beating a corrections officer within inches of his life appeared in District Court this morning for an arraignment, the Lansing State Journal is reporting.
Daniel Henry, 36, faces six counts in connection with the incident: armed robbery, unlawful imprisonment, prison escape, unlawful driving away of a motor vehicle, assault with a dangerous weapon, as well as assault with intent to murder.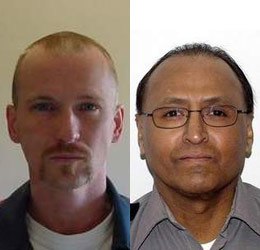 The attack occured on Dec. 8 about a mile north of the Carson City Correctional Facility.
Unarmed correctional officer Sam Olivo, 55, was overseeing five prisoners, including Henry, on a work detail.
It was then, authorities say, that Henry attacked Olivo, beating him until he was nearly dead with a pick ax, then a pitch fork.
Olivo was able to muster enough strength to walk 100 yards to a nearby house where a woman called 911.
All five inmates inmates took off headed south in the prisoner transport van. A high speed pursuit with police ensued.
After turning down a dead end street, 4 of the 5 inmates were recaptured. Henry took off on foot, but it wasn't long before the dogs caught up with him.
Today, Olivo continues to recover from severe head injuries.
Henry of Eaton Rapids Township, who already is serving a prison sentence for a 2008 Eaton County home invasion, faces a maximum penalty of life in prison.
A preliminary hearing, which determines if Henry will stand trial, is set for Jan. 26 in 64B District Court in Stanton.
Henry also has been ordered to stand trial in Eaton County Circuit Court on a fleeing and eluding charge.
He is being held at the Ionia Maximum Correctional Facility.
Request product info from top Corrections Body Armor companies
Thank You!