Nurse at NC jail charged with paying ex-inmate to kill officer
Lovie Annette Dodson Abdelaal and her husband have been charged in the plot
---
By Ryan Seals
News & Record
GREENSBORO, N.C. — A Greensboro couple was arrested Wednesday on charges they tried to hire a man to hurt or kill a detention officer who works at the High Point jail.
Detectives arrested Mohamed Hassanien Abdelaal, 33; and his wife, Lovie Annette Dodson Abdelaal, 38; of 5106 Windermere Drive following a two-week, multi-agency investigation.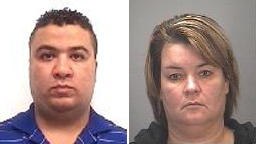 Both are charged with felony conspiracy and were released from the Davidson County jail after posting separate $10,000 bonds.
On Dec. 30, the Guilford County Sheriff's Office was notified by Thomasville police that a confidential informant had been asked by Lovie Abdelaal to hurt or kill the jailer, Sheriff BJ Barnes said.
Barnes did not identify the jail guard.
An initial sheriff's office investigation confirmed that information, and Barnes asked the State Bureau of Investigation to assist because the case crossed jurisdictional lines and involved a sheriff's employee.
Lovie Abdelaal had been working as a nurse at the jail and had an ongoing dispute with the jailer regarding something outside work, Barnes said. Once the alleged plot was revealed, Lovie Abdelaal was kept from work.
The investigation also revealed Lovie Abdelaal had a personal relationship with the informant, who had been an inmate at the facility within the past month, the sheriff said.
Mohamed Abdelaal also had met with the informant and solicited him to harm the jailer.
"We interviewed and talked with the informant, and there were some telephone calls and tapes that were made of those calls (as well)," Barnes said.
Barnes said the investigation revealed the couple wanted the jailer either beaten up or killed and his house burned down.
The sheriff would not elaborate on whether the couple had a plan for executing the scheme or how serious the plot was. He said there were no direct threats made to the jailer's family.
After the couple's arrest, police searched their Adams Farm home, but it was unclear what, if anything, was recovered. The warrant had not been returned Thursday afternoon.
Barnes said Lovie Abdelaal had worked at the jail since October 2008 for a private medical contractor.
A working phone number to reach the couple for comment was not available Thursday.
This was the first threat case that Barnes could recall involving one employee in the department threatening another.
"We've had threats, but it's usually coming from outside the jail or outside the law enforcement community," Barnes said.
Copyright 2010 News & Record (Greensboro, NC)
Request product info from top Corrections Body Armor companies
Thank You!