PRESS RELEASE
HellStorm(tm) Special Operations Tactical Goggles
---
For Immediate Release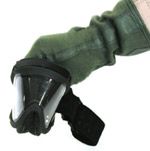 Norfolk, VA - BlackHawk® Industries is now manufacturing HellStorm(tm) Special Operations Tactical Goggles. The material for the goggles is a soft, urethane which stays flexible in extreme cold conditions. They are designed with an innovative upper and lower ventilation system for fog-free use. These durable goggles can handle any abuse!

The dual lens system has an anti-fog impregnated acetate inner lens and a shatterproof polycarbonate outer lens.They meet world-wide safety standards with ANSI rating: ANSI Z280/3, AS1067, EN1836. In addition, they sport 100% UVA, UVB and Infra-red protection.

Clear, orange and yellow replacement lenses are available.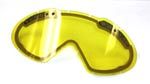 Visit the Blackhawk Website for more information or purchase.
BlackHawk Industries, Inc.
4850 Brookside Court
Norfolk, VA 23502 U.S.A.
(757) 436-3101
(757) 436-3088 Fax