PRESS RELEASE
Original SWAT Introduces the SEK 9000
---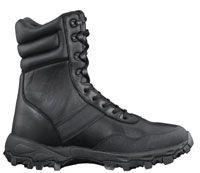 Salida, CA -- Introducing the SEK 9000 Boot by Original S.W.A.T. Developed in part by a former German GSG9 and SWAT Team officer, the SEK is the "uber stiefel" and natural successor to the legendary Adidas GSG9 Tactical Boot.
This lightweight (43oz/pair) tactical boot is built for stealth maneuvers in a full range of environments and situations. Built on a genuine VIBRAM outsole, the boot features an aggressive, multi-terrain tread with a cushioning EVA midsole. The outsole has built-in arch reinforcements for rope rappelling and added foot protection. The EVA midsole is topped by a lightweight, riveted steel shank sandwiched between 2 flexible lasting boards for superior lateral stability, torsional strength, and additional under-arch protection. For added comfort, the removable molded orthotic footbeds are designed with gel inserts at the heel and forefoot.
The SEK 9000 upper is made from supple, tumbled leather, reinforced with "Armor-Dillo" abrasion resistance in critical areas for durability and added traction when in the sniper position. Original S.W.A.T. has paid attention to detail, including the omission of contrasting, light-reflecting colors and visible tongue labels on the upper part of the boot.
The Original S.W.A.T. SEK 9000 has undergone extensive product testing on the feet of some of the most elite tactical officers in the world, setting new standards in comfort, strength, durability and tactical performance. Available in January 2007. Size range: Regular Width (D) 7 - 11.5, 12, 13; Wide Width (EEE) 8 - 11.5, 12, 13. For more information, call Original SWAT Footwear Co. at (209) 545-2500, or visit www.originalswat.com.