PRESS RELEASE
Original S.W.A.T. Steps Up with New Sock Line
---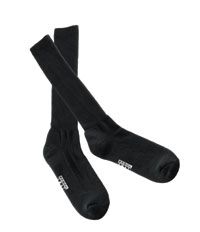 Salida, CA - Recognizing the need for a high-performance sock to compliment its tactical footwear line, Original S.W.A.T. has introduced a new line of boot socks, featuring X-Static® Silver Systems technology.
The over-the-calf styled socks are made from polyester-based Comfortrel® with 5% X-Static® Silver fiber, designed for ultimate comfort and performance. Comfortrel® has the feel of natural fibers with the added bonus of breathability and moisture-wicking properties. The revolutionary X-Static® silver fibers literally turn the new Original S.W.A.T. socks into a "super sock" with these features & benefits:
Antimicrobial: X-Static® eliminates odor-causing bacteria and athlete's foot fungus, eradicating 99.9% of bacteria in less than 1 hour of exposure.
All Natural: X-Static® is safe and non-toxic, containing no chemicals or pesticides.
Heat Transfer: X-Static® makes the socks cooler in the summer, warmer in the winter via reflective properties, low emissivity, and thermal conductivity of silver. The heat transfer qualities effectively transfer moisture, making the sock quick-drying and comfortable. It also greatly reduces the occurrence of blisters.
Anti-Static: X-Static® effectively conducts electricity, eliminating static shock and cling.
Simply put, the Original S.W.A.T. socks eliminate odor, bacteria, blisters and static electricity, while regulating temperature. Plus, the effects are permanent because X-Static fibers won't wash or wear out. The black-only sock is available in three sizes: Medium (boot sizes 4 - 8), Large (boot sizes 9 - 12), and XL (boots sizes 13 -15). For more information, visit
www.orginalswat.com
, or call Original SWAT Footwear Co. at (209) 545-2500.