PRESS RELEASE
SwatHeadsets Launches INVISIO V60
---
Advanced tactical quad-com system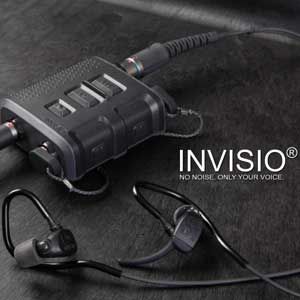 BREWSTER, N.Y. - The INVISIO® V60 from TEA Headsets provides users a small, simple and smart controller that allows them to connect and take command of their communications whether on land, air or sea.

Size Matters
The V60 is 50% smaller than other similar systems on the market, making it the smallest Quad-Com capable tactical communication system. Quad-Com capable means that with the use of a dual-net radio users now have the unique capability of communicating across four separate channels with the new V60. Devices that can be integrated into the V60 include 2-way radios, dual-net radios, radio man-packs, vehicle/aircraft and watercraft ICS, mobile phones, tablets, PCs and even user-to-user through the use of TEA's new portable intercom system. Users can also control their devices remotely or from the rail of their rifle with the optional INVISIO® M80 dual wireless push-to-talk.

Connect Any Headset, New or Old
What makes the V60 even more popular is that TEA has made adapters for it work with existing and legacy headsets. The V60 will mainly be used with the heavily fielded INVISIO® X5, a dual in-ear headset which provides user certified hearing protection, enhanced digital hearing and clear communications, which uses the patented INVISIO® Bone Conduction Microphone for speech. TEA will also offer a custom molded version of this headset called the INVISIO® X6 and a special version for JTAC/Airborne applications.

V60 is rated IP68 (submersible down to 20 meters) and compliant with MIL-STD810G standards. The V60 will be available for demo at AUSA later this month in Washington DC, team evaluations shortly after the show, and available in quantity at the beginning of 2013. Find more information on the INVISIO V60 and contact a TEA Headsets sales representative in your area.

For more than 40 years TEA has been well known for providing the highest quality in headsets and communication accessories with the capabilities to control multiple radios, intercom systems and mobile devices. In just the past decade there have been major advancements in portable radios and other 2-way devices, providing more features to special tactics operators. As more and more of these devices deploy into the field there has become a high demand for advanced solutions that allows users to seamlessly connect and control all of their comms devices with one simple to use controller. With many of the available options today one of the most common issues with these controllers has been that they are very big and bulky, can only be used with a limited number of headsets and many are too complex to operate.

About TEA Headsets™
TEA is an ISO Certified Company that manufactures and sells audio communication products for 2-way radios, vehicle intercom systems and mobile phones. For more than 40 years TEA has provided the highest quality of tactical headsets and products for the DoD, DoJ and various public safety and law enforcement agencies. With the motto of "I Heard You The First Time…®" TEA goes to every effort to make sure your communications allow you to "Speak Anywhere and Hear Everything". TEA offers a free 30-day evaluation program for almost all of their products. For more information visit TEAheadsets.com.

Request more info from SwatHeadsets
Thank You!