Ill. prison barbers make almost $72,000 a year
Giving haircuts to inmates can lead to hairy situations
---
By Mark Brown
Chicago Sun Times
CHICAGO — Sometimes a single fact in a news story will jump off the page and leave you asking: Could that possibly be true?
That's what I was thinking when I read the report in Monday's Sun-Times by Chris Fusco and Art Golab about lawyer Michael Shakman taking aim at state patronage hiring.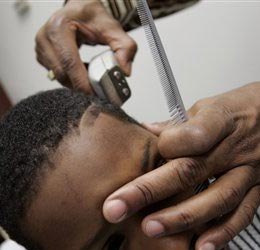 The fact that caught my attention: a barber for the Illinois Department of Corrections collected $71,862 in salary in 2008.
I couldn't have been the only person reading that who wondered: Do state prison barbers really make that much money?
Yes, they do, as a matter of fact.
A search of the state payroll reveals that 14 Illinois prison barbers were paid between $71,000 and $73,000 in 2008, the latest year covered by our database. That doesn't include two prison beauticians paid in the same range and three "teachers of barbering" who collected from $79,000 to $83,000.
That struck me as darn good money for a Downstate barber -- and maybe as another example of why Illinois government is spending itself into a hole. I figured you could probably form a line around one of those prisons of licensed barbers willing to take such a job for $60,000 a year or less.
Loren "Bill" Rhea said I'm not seeing the whole picture.
"The big thing is the threat," said Rhea, who until last year was the barber at Western Illinois Correctional Center, a medium security joint in Mount Sterling that holds 2,000 inmates.
"You've got hazardous tools you're working with. There's murderers you're working with. I've seen lockdowns. I've seen blood. It's a dangerous job," Rhea said. "That's the reason why a prison barber makes a pretty good chunk of money."
I called Rhea because I noticed he retired last year. Most state workers are afraid to talk to reporters without going through channels, and I hoped Rhea would be able to speak more freely.
As it turned out, Rhea is one of those barbers who knows that banter is at least fifty percent of the job.
"I scheduled 60 people a day to get haircuts. You're training people all the time. I trained over 200 people in 20 years," he said. "I was busy every day. Many days I didn't even take lunch. I earned every penny I made."
By training people, Rhea meant that he was training inmates to give the haircuts. The other main part of his job was administrative, typing up the "call list" of inmates scheduled to get their hair cut the next day.
"There's more to it than showing up. You've got to be a craftsman," he said. "Inmates will fight over their hair. They want it done right."
Rhea said he never actually had a fight in the prison barbershop, but added: "I've had to get between people, yes I have. I've had to send inmates back to lockup. I've never been hurt, but I've seen people hurt. There's danger involved."
Naturally, part of the danger involved the instruments used in cutting the hair, many of which could double as weapons.
Rhea said he would sign out 100 hair-cutting tools every morning to start work and conduct a count at several points during the day to make sure they were all still where they were supposed to be.
What about scissors?
"Shears," Rhea corrected me. "You cut paper with scissors. You cut hair with shears."
And yes, they have shears.
But no, there are no razors, and the prison barbershop gave no shaves, he said.
Rhea said he hosted as many as 20 inmates at a time in the barbershop with no prison guard.
Rhea, 60, has been a barber for 43 years. He went to work for the state in 1989.
"I knew some people, and they said you ought to apply for this job," said Rhea, who said he made $48,000 cutting hair in his last year in private business before joining the state -- and that was working six days a week.
He's now drawing a state pension and cutting hair once a week, although he said he plans to increase his workload after he takes "a few trips."
Rhea said the prison barbers belong to the barbers union and are covered by a contract that sets their pay at $36.60 an hour. Teachers of barbering, who operate programs that allow the inmates to obtain a barber's license, make $41 an hour.
Rhea's description of the job's downside might curtail that line of applicants I suggested would stretch around the prison. But that guaranteed $36.60 an hour, 40-hour workweek and state pension would look awfully good to a lot of barbers right now.
Copyright 2010 Chicago Sun-Times, Inc.