PRESS RELEASE
GLOCK Pledges $150,000 to CMP Talladega Marksmanship Park Over Next Three Years
---
CAMP PERRY, OHIO – GLOCK, Inc. has contributed $50,000 to the Civilian Marksmanship Program in support of its new CMP Talladega Marksmanship Park, which opens in the spring of 2015. The contribution is the first of three annual donations GLOCK Inc. has pledged to the CMP to benefit its new shooting sports park in Talladega County, Alabama.
"We are pleased that GLOCK has stepped up with their support of our park, which will be the most progressive public shooting venue of its kind in the United States," said CMP's Orest Michaels, Chief Operating Officer. "We are fortunate to have strong industry support for a project that will benefit a broad spectrum of participants, and especially our young shooters."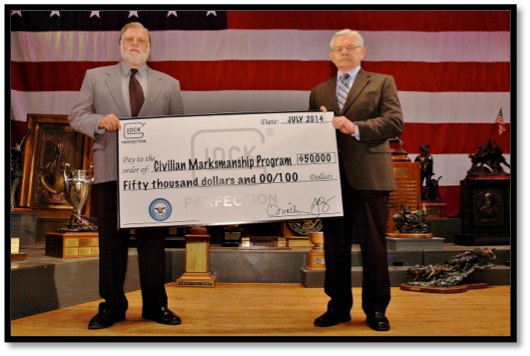 The CMP Talladega Marksmanship Park is projected to open in May 2015 and will feature a 50-yard pistol range, three 50-yard action pistol bays, twelve 25-yard action pistol bays and a 50-foot pistol range. A portion of the pistol complex will employ electronic targets as will the high power rifle ranges.
"GLOCK's contribution will be evident throughout our 500-acre park," CMP Deputy Chief Johnson said. "Their support of our new venture at Talladega will guarantee exposure to thousands of shooting sports enthusiasts over the course of the next three years."
The park was approved by the CMP Board late last year and has been under construction since early this year. The shooting complex is situated in the rolling hills of Talladega County and is located approximately two miles from the Talladega Super Speedway.
"GLOCK is pleased to join the CMP in their mission of promoting safe and responsible firearms use while developing the skills of new shooters through their junior program," Stated Bob Radecki, GLOCK National Sales Manager, "The new CMP Complex will provide an excellent
facility continue their mission and expand our joint goals of safe and responsible firearms use."
The CMP's Talladega Marksmanship Park will provide firearms training and safety classes in addition to traditional range amenities.  It will also serve as a southern U.S. location to support its regional CMP Games circuit that currently includes the CMP Games – Oklahoma, CMP Eastern Games at Camp Butner, N. Carolina, CMP Western Games in Phoenix, Arizona and the National Matches at Camp Perry.
Completion of the facility is expected in early 2015, followed by at least 90 days of range testing prior to opening in May.  The first CMP Southern Games is planned for June 2015 and potentially a second Games event in December of next year.
For more information about the CMP and the CMP Talladega Marksmanship Park, log onto www.TheCMP.org.
About GLOCK, Inc.
The GLOCK GROUP is a leading global manufacturer of pistols and accessories. GLOCK's superior engineering has produced a pistol with only 34 parts and a rugged polymer-frame, providing industry-leading reliability shot after shot. GLOCK is renowned for its pistols which are safe, featuring three safeties; simple, offering a low number of components to provide reliability; and fast, with no encumbering parts to slow the speed to fire. This combination makes GLOCK pistols the first choice among consumers and law enforcement, with approximately 65 percent of agencies within the United States choosing to carry GLOCK. Austrian-engineered, the group has manufacturing facilities in the United States and Austria. Based in Smyrna, Ga., GLOCK, Inc. is an advocate for our nation's law enforcement and military personnel, as well as all citizens' Second Amendment right to bear arms. For more information, please visit http://us.GLOCK.com/.