PRESS RELEASE
IES Interactive Training and Live Sight Target Systems Inc. Extend Exclusive 3D Technology Teaming Agreement
---
Industry leaders in Interactive Force Option/ Firearms Training Simulators and  3D target systems renew agreement to create and deliver innovative 3D training scenario content to enhance and expand simulation training experiences.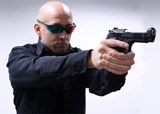 Ann Arbor, Michigan - Arotech Simulation and Training Division's IES Interactive Training subsidiary announces that it recently extended a teaming agreement with Live Sight Target Systems Inc. for exclusive rights to its innovative 3D stereo target training technology for the development, production and delivery of interactive 3D training scenarios and media for use on IES's line of force-options simulators and firearms training systems. Live Sights patent-pending 3D stereo anaglyph target technology (U.S Patent Application No. 20080018859) will be leveraged by IES's in-house media division to create and deliver the industry's only 3D simulator training scenarios authorized by Live Sights for exclusive use with IES's MILO Range Pro HD law enforcement and military training systems.   
Under this exclusive agreement, IES has already produced a full line of interactive training scenarios in full high-definition stereoscopic 3D video that include a wide range of topics such as armed response, domestic disputes, EDP and suspicious persons, high-risk traffic stops, and first responder situational scenarios.   Using high-impact 3D stereo anaglyph glasses provided to IES by Live Sight, trainees using these scenarios on IES simulators will experience significantly enhanced real-world distance and depth perception capabilities that greatly improve the trainee's ability to make correct determinations about threats and judgments related to the proper use of force needed to resolve them.
"IES is pleased to continue our exclusive teaming agreement with Live Sight Target Systems to offer their 3D firearms training technology on our simulation systems product line," noted Robert McCue, IES's General Manager.  "By incorporating this highly-regarded training technology into our systems, IES is able to achieve a wider range of functionality on our MILO Range interactive simulator product lines that will enhance the readiness of any agency as they train to confront threats at home and abroad," said McCue.  "IES is has been developing and fielding industry-leading simulation training systems since 1994, and we believe that the inclusion of Live Sight Target System's proven 3D firearms training technology into our systems will greatly enhance the training experiences of officers using our simulators to a level unmatched in the industry".
Ralph Capone, President and CEO of Live Sight Target Systems said, "Live Sights is excited to continue our exclusive relationship with IES.  It is our opinion that having the best simulation training systems in the industry operating with our 3D training technology will save lives and reduce injuries to officers, and reduce liability on the agency.  As career law-enforcement officers ourselves, Live Sight Targets believes we have no higher calling than insuring that our patent-pending 3D technology will be helping to save lives".
 
For more information, please contact IES Interactive Training, Inc. at 1.800.344.1707 or visit our website at www.ies-usa.com.
For more information on Live Sight Target Systems, please call 1-888-548-7483, or visit www.livesighttargets.com.
About IES Interactive Training, Inc and Arotech Corp:
Arotech's Simulation and Training Division develops, manufactures, and markets advanced high-tech multimedia and interactive digital solutions for use-of-force and driver training of military, law enforcement, security, municipal and private industry personnel. The division's fully interactive driver-training systems feature state-of-the-art vehicle simulator technology enabling training in situation awareness, risk analysis and decision-making, emergency reaction and avoidance procedures, and conscientious equipment operation. In addition, the division's use-of-force training products and services allow organizations to train their personnel in safe, productive, and realistic environments. The division also provides pilot decision-making support software for the F-15, F-16, F-18, and JSF aircraft, as well as simulation models for the ACMI/TACTS air combat training ranges."
Arotech's Simulation and Training Division consists of IES Interactive Training, FAAC Incorporated and RTI, Inc.
About Live Sight Target Systems, Inc:
Live Sight Target Systems is a company created by law enforcement professionals for law enforcement professionals and branches of the military. Our product line stands to revolutionize the firearms training industry utilizing 3D imaging and custom-made protective 3D shooting glasses. Live Sight's 3D targets bring shooting situations to life using technology popularized by movie studios and other cutting-edge media. 3D anaglyphs transform regular targets and scenarios into interactive experiences that ensure the most realistic training currently available. Live Sight uses 3D anaglyph and other stereo technology to add another dimension to the firearms training industry.