How to select and train officers for high-risk inmate transports
Those tasked with performing high-risk transports should have a mastery of the basics before being given assignments with an added element of risk
---
There are always risks associated with taking inmates outside of the secured perimeter. These risks are magnified when transporting inmates who have been deemed high risk based on the severity of their crime, length of sentence, previous escape attempts, or other behaviors or factors that warrant concern.
When inmates are taken out of the correctional environment, transport officers can no longer rely on the safety and security measures available at the facility. While on transport duties, the officers themselves serve as the final barrier between custody and freedom for the inmate. This makes it vital that officers tasked with conducting transports are properly selected and trained.
Some agencies may have criteria in place that have to be followed when selecting transport officers. This could be a function of a standardized bid process or through application and selection.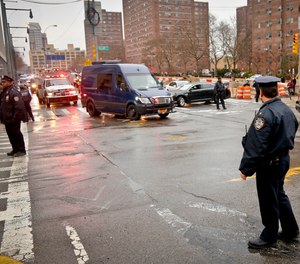 Some agencies may have additional discretion for specialized transports or high-risk transports outside of the normal scope of operations. This discretion could include the activation of specialized teams within the agency or could include the assistance of other agencies.
Selection of officers for high-risk prisoner transports
When selecting officers for high-risk transports, special consideration should be given to those who have a reputation for following policy and procedure. During high-risk transports, following previously outlined protocols is imperative. Everything from the trip route to contingency plans must be reviewed and followed.
Not only should the transport officer be someone who can follow procedures, but they should also be someone who has the proven ability to use sound judgment when called upon to make quick decisions. The list of things that can go wrong during a prisoner transport is infinite. Transport officers need to be able to react to unforeseen situations and take actions that are in the best interest of public safety and the safety of the inmate.
Due to the vulnerabilities of the transport, it makes it especially important that all searches are conducted thoroughly, restraints are applied properly and there's a commitment to expecting the unexpected. An officer who possesses these attributes may be the best choice.
Finally, transport officers should be "physically able." The term "physically able" refers to the officers' physical ability to carry out those actions necessary for the transport such as :
Physical ability to render life-saving aid;
Physical ability to defend oneself;
Physical ability to effectively utilize issued weapons systems;
Physical ability to restrain the inmate, or provide necessary assistance in restraining;
Physical ability to conduct proper searches and properly apply and remove restraints.
Training of officers for high-risk prisoner transports
The training a corrections officer receives is only as good as the trainer. This is certainly the case when conducting training for transport. Basic transport training should include hands-on training in conducting personal searches and restraint application. The role of the trainer is to first properly demonstrate these functions, but also be able to evaluate the trainee to ensure their thorough grasp of the concepts.
Too often, once a trainee effectively demonstrates the ability to execute a function one time, there is no additional follow-up. Quality training provides for repetition, especially in the areas of conducting searches and restraint application. Repetition in these functions creates muscle memory allowing the officer to react when performing duties versus hesitating while trying to recall the steps.
Those tasked with performing high-risk transports should have a mastery of the basics before being given assignments with an added element of risk. Once mastery of the basics has been demonstrated, a consideration for higher-risk transport training may follow. Additional training for topics for those who conduct high-risk transports may include:
Firearms and other weapons system;
Tactical driving;
Advanced defensive tactics;
Emergency response team or tactical training.
Preparing for high-risk transport is like preparing for any other tactical situation. You train for what you expect to happen, as well as for the unexpected. Building a foundation is vital, however. Officers must master the basics before consideration for training for high-risk transports.
Summary
As mentioned previously, there are inherent risks when an inmate is taken outside of a secured perimeter for transport. There are times when the risks associated with an inmate are known. In these instances, the best way to handle the situation is through preparedness. Ensuring that the best people are selected to carry out the duties is an important part of that, as well as ensuring that they are properly trained.
From the perspective of the transporting officer, it's important to remember to treat every transport as a dangerous high-risk transport. One of the biggest killers when transporting inmates is complacency. A seemingly low-risk transport could present life-threatening situations and a danger to the public. The officer who can avoid complacency day in and day out, and who can stay constantly prepared during even the most mundane transports, shows a commitment to being able to take on higher risks.

Request product info from top Prisoner Transport companies
Thank You!