Best practices for correctional officer safety during inmate transport
Inmate transports present several dangers for correctional officers; here are four safety tips to ensure your well-being
---
Recent national incidents have placed a spotlight on prisoner transports outside of prisons and jails.
In May, a deputy in Iowa was shot and killed and another shot and injured during the escape of a jail inmate being transported to court. Weeks later in Georgia, two correctional officers were killed when two inmates escaped while being transported in a prison bus. These incidents are a grim reminder of the need to ensure safe transports of inmates outside of our prisons and jails.
What is correctional security?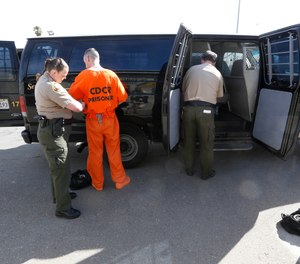 In order to determine the elements essential for the safe transport of inmates, it is important to establish a general definition of correctional security. The term "correctional security" is defined as the roadblocks, barriers and obstacles in place as a means of securing inmates.
When we take inmates outside of a secured place of confinement we remove many of the roadblocks, barriers and obstacles a correctional facility offers. This includes the facility's physical structure, as well as fences, cameras, towers, alarms, etc. Because the very nature of inmate transport introduces vulnerability by removing security barriers, it's vital that best practices are followed in order to address security risks. 
Here are four safety tips to ensure your well-being:
1. Plan the trip  
Prior to departing a facility with an inmate, transport officers should be aware of several factors. First, officers should know who they're transporting. The "who" includes the inmate, his/her crimes, escape history, history of violence and/or assaults on officers, and other relevant information. Officers should determine ahead of time where they are going and establish a trip route.
2. Conduct searches
The inmate should be strip searched prior to departure. The search should include an inspection of the clothing that will be worn during transport, as well as a visual scan of all areas that can be used as hiding places, including all body cavities.
Limit clothing items only to those deemed necessary. Excess items that must be taken due to policy, medical need or court-ordered mandate, may be kept under the control of transporting staff.
Conduct a thorough search of the transport vehicle's passenger compartment to ensure items have not been left behind from prior transports that could be used as weapons of opportunity or as a means to defeat restraints.
Upon return from the trip, repeat the entire search process.
3. Properly apply restraints
Even when properly applied, restraints can be defeated and the inmate can pose a potential threat. Our mission is to apply restraints in a way that promotes and utilizes all the roadblocks, barriers and obstacles the restraints offer. In order to do this we must ensure that they are applied as intended and in a manner that affords the greatest level of security. For instance, the handcuff itself is a barrier. Is it the proper tightness? Are the handcuffs double locked?
If you are using leg irons, are they applied properly? Are you using additional security measures such as waist chains, restraint belts, padlocks or cuff covers, and are they applied properly?
4. Employ constant vigilance
Obviously the most dangerous portion of a transport is the transport itself. Transport officers must not only observe the actions of the inmate(s), but also be aware of outside threats. This can be difficult if a transport officer is alone or officers are escorting multiple inmates. Outside threats can come in the forms of friends, family or associates looking to aid in an escape, or weapons or other contraband items that have been planted ahead of time.
Being constantly vigilant includes conducting yourself tactically throughout the trip. Maintain an appropriate escort position while moving with an offender. Keep your weapon as far away from the offender as possible and maintain appropriate reactionary gaps. Keep your hands free at all times.
The return trip is perhaps the most dangerous time of the transport. Inmates may have learned the route and be looking to take advantage of officer fatigue or complacency. Complacency is something that must be battled throughout a correctional career. When officers feel comfortable and confident in their ability to do a job, complacency can set in, but complacency kills. You must constantly expect the unexpected.
A Matter of Public Safety
Ensuring that transports are conducted in the safest manner possible is an issue of life and death. Not only are the lives of officers at stake, but the safety of the public is put at risk when transports go wrong.
The business of corrections is about protecting the public while at the same time protecting those you work with and the inmates you supervise, both inside and outside the confines of a facility. When seconds matter during a transport, your backup may be minutes away.
Losing even one staff member is one too many, and recent events have touched the entire corrections community. Ultimately, the goal is to go home to your family at the end of the day. Do everything you can to make that happen.