PRESS RELEASE
Myers Enterprises, Inc. Releases Stun-Cuff PCU Wireless Prisoner Control Device
---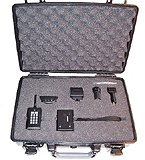 The Stun-Cuff PCU (Patrol Car Unit) mounts quickly and easily in the cab area or trunk of the vehicle using DC power. New circuitry controls the automatic charging system of the unit, and requires no maintenance. The Stun-Cuff PCU is placed on the prisoner and controled by a wireless remote transmitter.
The remote transmitter remains with the officer in the front of the vehicle giving the ability to control unruly prisoners ( screamers, spitters, kickers, violent and aggressive persons) in the rear seat without having to stop the vehicle. The transmitter has a clip for use on the visor or duty belt allowing the officer quick, safe and immediate activation.
The Stun-Cuff PCU has all the proven features of the Award Winning Stun-Cuff Magnum.Specifications: Transmitter has 100 yard range, Stun-Cuff Magnum is water proof, impact resistant, uses standard handcuff key, uses off the shelf AAA rechargable batteries, AC to DC adapter, female socket for hard wire, mounting bracket.
For more information on this or other Stun-Cuff related products visit, www.stun-cuff.com.

Request more info from Stun-Cuff
Thank You!