LDV Vehicle Testimonials
---
https://go.praetoriandigital.com/?target=art_RAvClm0h0hN1kCUo&source=pct_ijjWySa2zXVzq04l Chandler Police Department
When the Chandler Police Department decided to have a Mobile Command Center built there was no doubt that we would use LDV. We checked other vehicles in the area and were extremely impressed. Once the company was contacted our confidence was nothing but increased. Starting with the Sales and Project Management departments all the way to the technician that delivered the vehicle, they were nothing but professional.
As you can see from all the items sticking out of the top of the vehicle, we loaded the vehicle with every piece of equipment we could think we might need. LDV''s attention to detail is very impressive. I visited the factory in Burlington Wisconsin and was impressed with the fact that everything is done in house which allows LDV to keep their standards very high.
We took delivery of our Mobile Command Center September of 2002 and it has been used extensively. It has been used at Officer involved shootings, crime scenes, community events, SWAT call-outs, and festivals just to name a few. We have had several visitors from other agencies who are very impressed and jealous of our Mobile Command Center.
I would like to say thank you to LDV for everything they did to assist us with this purchase.
- Detective Mark Stevens
Chandler Police Department
Chandler, Arizona
---
Reno Police Department
"We went to several companies in the business, but we selected LDV because they had offered us so much experience and were willing to work closely with us to design a vehicle that we wanted. Our SSV goes out pretty much everyday."
- Capt. Bob Kochel
Reno, Nevada Police Dept.
---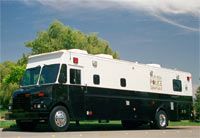 Santa Rosa Police Department
"LDV has provided us with a high quality vehicle that will allow us the opportunity to serve the citizens of Santa Rosa in a variety of capacities for many years to come."
"We have found our Mobile Command Center to be a tremendous asset in reaching out to the community in which we serve. It has been deployed in tactical situations, recruiting efforts, special events, community outreach, and in situations requiring mobile communications."
"The custom installation of our hostage negotiations equipment into the vehicle has been very beneficial in response to critical incidents."
- Commander Jerry Briggs
Santa Rosa Police Department
---
Broward Sheriff''s Office
The Crime Scene Mobile Laboratory was ordered from LDV after the delivery of our SWAT Command Vehicle. We were so impressed with the quality of the SWAT truck that we knew immediately who had to build our Crime Scene Vehicle. The quality, expertise and cooperation at LDV is second to none. The result was a one of a kind vehicle with the most advanced forensic capabilities available anywhere.
- Sergeant James Kammerer
Broward Sheriff''s Office
Crime Scene Unit
To view more LDV Law Enforcement Testimonials, please visit www.ldvusa.com/new/customerComments.asp