Man released from prison after 17 years in bizarre doppelganger case
Attorneys for Richard Anthony Jones uncovered a lookalike possible suspect for the robbery for which Jones was incarcerated
---
By Tony Rizzo
The Kansas City Star
KANSAS CITY, Mo. — There will be no new trial for a Kansas City man released from prison last week after his attorneys uncovered a lookalike possible suspect for the robbery in which Jones was incarcerated for 17 years.
Johnson County District Attorney Steve Howe said Monday that he dismissed the charges against Richard Anthony Jones.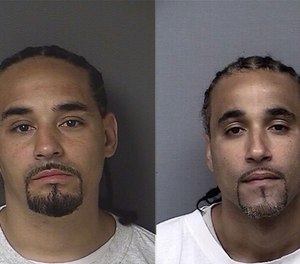 "This has been one of the most bizarre scenarios that I've seen in my 27 years of prosecuting cases," Howe said in a written statement.
Last week, a Johnson County judge vacated Jones' conviction and ordered his release on bond based on new evidence, including information about the man who shared a first name with Jones and an uncanny resemblance.
The judge found that based on the new evidence, no reasonable juror would find Jones guilty of the crime.
Despite the decision, prosecutors still could have sought to retry Jones, but on Monday, Howe said that would not happen.
"This new information has created concerns within our office as to who actually committed this crime," Howe said in Monday's statement. "Based on these concerns and in the interest of justice, we are unwilling to retry the case and have dismissed charges against Mr. Jones."
Jones was convicted of committing the robbery outside of the Walmart in Roeland Park after the victim and other witnesses identified him as the perpetrator.
He was subsequently sentenced to 19 years in prison and lost several appeals.
But while in prison, Jones learned of the other man, and his attorneys uncovered evidence that that man was associated with addresses near where the crime occurred.
The victim and other witnesses also said that after seeing photographs of the other man, they could no longer say that Jones was the robber as they had at his trial.
Jones, who had adamantly denied he committed the robbery and said he was with family and friends in Kansas City at the time, is now home with family.
He was not available for comment on Howe's decision Monday.
©2017 The Kansas City Star