Ga. sheriff facing civil rights abuse charges
Sheriff Victor Hill was indicted on federal charges Tuesday for using a restraint chair to punish inmates
---
By Leon Stafford
The Atlanta Journal-Constitution
        
JONESBORO, Ga. — Clayton County Sheriff Victor Hill, who calls himself "The Crime Fighter," was indicted on federal charges Tuesday for allegedly violating the civil rights of jail detainees.
In a 12-page, four-count indictment, filed April 19 but unsealed on Monday, Hill is accused of depriving detainees of their liberty in incidents that occurred over several months in 2020 by strapping them to a restraint chair as a form of punishment.
In many of those incidents, the sheriff, who has been at the center of controversy for years, berated the detainees with profanity, telling them that they were in "his county" and that their rights were limited in his presence, according to the federal document.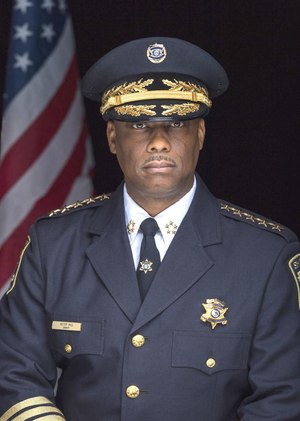 "You're entitled to get the hell out of my county and don't come back," Hill is accused of telling one of the defendants who had asked about being entitled to a speedy and fair trial.
In another incident, a defendant identified by federal investigators as "J.H." was restrained in a chair for several hours and not given access to a restroom. He urinated on himself, the indictment said.
Federal law allows use of a restraint chair to keep inmates from harming themselves or someone else, but the chairs must not be used as a form of punishment.
A restraint chair has shoulder, lap, ankle and wrist straps, and law enforcement officials say it helps keep disruptive prisoners from harming themselves or others.
Civil rights advocates say the devices can be misused by officers. In Gwinnett, federal lawsuits were filed in 2013 and again in 2018 over the county's Rapid Response Team's use of the devices. The 2018 lawsuit accused the former Sheriff Butch Conway of excessive force that violated inmates' constitutional rights.
Hill appeared in Magistrate Judge Russell Vineyard's courtroom Tuesday afternoon, where he was given a $50,000 appearance bond and told he could not leave the Northern District without prior approval.
He is limited to one firearm, as he is a law enforcement officer, and the four charges can carry up to 10 years in prison per count.
U.S. Attorney Kurt Erskine said Tuesday that Hill abused his power as sheriff and "must be held accountable."
Hill's attorney, Drew Findling, told Channel 2 Action News that the charges were "disgraceful."
The legal action against Hill comes as he has fought back years of accusations of bullying and strong-arm tactics in policing and running the Clayton County jail.
These new allegations paint a damning picture of abuse, federal authorities say.
In April 2020, a boy identified as "C.H.", and who had just turned 17, was arrested for allegedly vandalizing his home during an argument with his mother. Seated in the back of a deputy's vehicle, the arresting officer took a picture of the youth, who had been apprehended without resistance and was cooperative.
He texted the photo to Hill. Hill asked the detainee's age.
"17," the deputy wrote.
"Chair," Hill replied.
The indictment also said Hill verbally abused "C.H." and "J.H." Hill taunted them with curse words, saying he would make them sit in the chair for 16 hours if they ever crossed paths with him again in jail.
Hill also used the restraints on defendant "G.H." after the man became entangled in a dispute over landscaping work for a Clayton County deputy in Butts County, the indictment states. The sheriff called the landscaper and told him to stop harassing his employee after the worker sought payment for the yard work. Hill later swore out a warrant for arrest against the landscaper for "harassing communications."
A day later, Hill sent a "fugitive squad armed with handguns and AR-15 rifles to Butts County in an attempt to arrest G.H. on the misdemeanor arrest warrant," the indictment said.
The landscaper spent hours restrained in a chair after his arrest on Hill's orders, the indictment said.
The FBI searched Hill's office in June 2020, months after a number of the alleged incidents took place. But the federal agency declined at the time to say what agents were looking for or what had been found.
Aggressive tactics, still popular
Hill fired 27 employees immediately after taking office in 2005, placing snipers on the sheriff's department roof as they were escorted out. In 2012, he was accused of several counts of racketeering, theft by taking and making false statements, though he would later be acquitted of all charges.
And in 2015, he accidentally shot a friend while demonstrating "police tactics" during a date. His law enforcement certification was later put on probation for two years by the Georgia Peace Officer Standards and Training Council.
In 2018, he arrested the wife of a would-be rival for his office and later took the candidate into custody as well.
Last year, the Southern Center for Human Rights and the ACLU of Georgia filed lawsuits claiming the sheriff was not doing enough to protect inmates against COVID-19, including housing three detainees in cells meant for two prisoners.
"We are unsurprised by the allegations described in the federal indictment of Sheriff Hill," said Cody Cutting, equal justice works fellow at the Center. "After nearly a year of advocating for people in the Clayton County Jail, we know that these stories only begin to scratch the surface of the sheriff's callous and cruel treatment of those he is supposed to protect."
In recent years, federal authorities also sought records from Clayton County related to Mitzi Bickers, a central figure in the Atlanta City Hall corruption investigation, who works under Hill as a chaplain for the sheriff's office.
Bickers, who formerly worked at Atlanta City Hall as director of human services, is under indictment and faces trial next year in an alleged cash-for-contracts scheme. Bickers is accused of using her influence with the city to help steer contracts to a pair of construction company CEOs who have already pleaded guilty.
Hill has not been accused of any wrongdoing in connection with the Atlanta City Hall probe.
Despite his controversies, he has remained popular with many residents of the south metro community, handily winning re-election in 2020. He became sheriff in 2005, but lost re-election in 2008. He ran again in 2012 and won, holding the office ever since.
NEXT: The proper use of restraint chairs in corrections
     
(c)2021 The Atlanta Journal-Constitution (Atlanta, Ga.)
Visit The Atlanta Journal-Constitution (Atlanta, Ga.) at www.ajc.com
Distributed by Tribune Content Agency, LLC.
McClatchy-Tribune News Service