1 in 4 CO jobs were unfilled at SC prison where deadly riot occurred
Before the deadly riot, state officials knew they didn't have enough staff to secure South Carolina's prisons
---
By Lucas Daprile and John Monk
The State (Columbia, S.C.)
COLUMBIA, S.C. — Long before a riot left seven inmates dead at Lee Correctional Institution early Monday, state officials knew they didn't have enough staff to secure South Carolina's prisons.
Last month, inmates at the Bishopville prison took a corrections officer hostage. Lawsuits blamed two inmate deaths in 2016 on severe understaffing and inadequate care.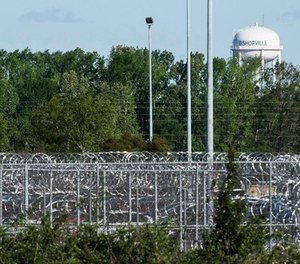 Last year, one in five Department of Corrections positions were vacant and an official state report said Department of Corrections staffing levels were at "crisis levels" — all while violence was rising.
Understaffing leaves staff exposed to attacks, inmates free to attack one another and causes corrections officers, who already have a tough job, to work even harder, experts say.
"Most of the time the cellblocks are understaffed. If they're supposed to have two (COs), they have one," said Ed Bell, an attorney with the Bell Law Group who represents clients who are inmates at Lee Correctional Institution. "It's fairly well accepted that most prison violence happens when a correctional officer is not there."
When the riots started on Sunday night, 44 staff members were on duty during overlapping shifts, before patients were locked up for the night, Department of Corrections Director Brian Stirling said. At Lee Correctional Institution, around 28 percent of correctional officer jobs are vacant, Stirling said.
That's slightly higher than the department overall, where 25 percent of correctional officer jobs are vacant.
Though the violence at Lee Correctional Institution marks the state's highest profile incident of prison violence in recent memory, the understaffing runs rampant throughout the state's 21 prisons.
"What's happening at Lee is going to happen all over South Carolina if the governor and the director of prisons (don't) do something," Bell said. "This problem can be fixed, but it cannot be fixed by sweeping it under the rug."
Underpaid
The top reason experts say South Carolina suffers from a shortage of corrections officers: it doesn't pay them enough.
An entry level Department of Corrections officer at Lee Correctional Institution receives a base salary of $34,596, department data show. After overtime, they're expected to make $41,964, but that's still $1,500 less than the national median wage, according to the United States Bureau of Labor Statistics.
The state tried to rectify this problem in recent years. Since 2014, the state has raised the salaries of correctional officers at maximum security prisons by $6,700 while hiring 100 more officers — a 5.8 percent increase, according to Department of Corrections data.
According to Stirling, the money has made a difference. The percent of vacancies a year ago was 48 percent. Today, it's half that, he said.
In a Monday news conference, Stirling defended the state's efforts to increase correctional officers' pay and thanked the legislature and the governor for increasing their funding in recent years. He called on legislators to approve additional money for the department to hire more officers.
"They got some more money, but that's not enough," said Susan Dunn, the legal director of the American Civil Liberties Union South Carolina. "The job hasn't kept up with the economy, which makes it harder to fix."
The S.C. House added about $3.7 million to its proposed state budget that takes effect July 1 to give corrections officers raises. The state Senate added $5 million.
Compounding the department's lower-than-average wages is a pattern of the department underpaying its employees. The South Carolina State Auditor cited the Department of Corrections in five, separate annual reports during the past 10 years, including 2016, the most recent one. The problems were caused by incorrect bookkeeping or failure to properly use federal funds.
"Even if they were paid exactly what they were hired to be paid, it's not enough," Dunn said.
Unlike some states, South Carolina's prisons are not overflowing. Lee Correctional Institution — which opened in 1993 and houses almost 1,600 inmates — was at 96 percent total capacity as of Monday, according to Department of Corrections data. In 2016, the state's prisons were at 91 percent capacity.
"At least on the surface we can say overcrowding is not the issue," said Marc Mauer from The Sentencing Project, a national, nonprofit criminal reform group. "A lot of it has to do with how the prisons are managed."
©2018 The State (Columbia, S.C.)