Disturbance leaves 2 inmates dead at Neb. prison
Inmates revolted against staff members and started a fire in a courtyard
---
By Grant Schulte and Nati Harnik
Associated Press
TECUMSEH, Neb. — Authorities on Friday released the names of two inmates who were killed in a riot at a Nebraska prison where a similar deadly incident occurred two years ago.
Corrections officials said 39-year-old Damon Fitzgerald and 31-year-old Michael Galindo died in the Thursday revolt at the Tecumseh State Correctional Institution, but they didn't say how or why they died.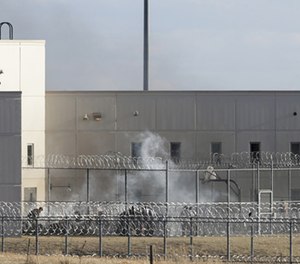 "Any loss of life is tragic," Scott Frakes, the Department of Corrections' director, said in a news release. "The (prison) staff handled the situation extremely well, which limited the incident to a small number of participants and minimal damage."
The riot involved about 40 inmates who refused to return to their cells in a unit that houses 128 prisoners. Galindo was serving a sentence of 12 to 21 years on robbery and other charges. Fitzgerald was sentenced to hundreds of years in prison for crimes including sexual assault.
Corrections Department spokeswoman Dawn-Renee Smith said the incident began around 1 p.m., when staff members reported a fire in a mini-yard connected to one of the housing units. Smith said the inmates refused to return to their cells. When staff members realized the situation had become unsafe, they left and isolated the inmates in one half of the housing unit.
Smith said the unit was "secured" around 4:30 p.m. and wasn't extensively damaged despite fires that were set inside it. The Nebraska State Patrol and state fire marshal are investigating.
Some lawmakers accused prison officials of trying to downplay the incident at the prison, where two inmates were killed in a May 2015 revolt that caused millions of dollars in damage and prompted demands for upgrades and better staffing. Prison officials have insisted that it wasn't a "riot" and they stressed that the public outside the prison was never in danger.
"These deaths continue to be unacceptable, and we (the Legislature) will have to continue to monitor them," said state Sen. Matt Hansen, of Lincoln.
The American Civil Liberties Union of Nebraska said the incident illustrates the lingering problems in the state prison system.
"The horrific conditions of confinement rampant in Nebraska prisons threaten public safety now and into the future," said Danielle Conrad, the group's executive director.
State Sen. Dan Watermeier of Syracuse, whose district includes the prison, commended the prison staff's response.
"We are making progress, but this progress takes time," Watermeier said.
No prison workers were injured. An unspecified number of inmates suffered injuries that weren't life-threatening, Frakes said. Fitzgerald and Galindo were found inside the housing unit.
Doug Koebernick, an inspector general who oversees the Corrections Department, said he plans to conduct a full investigation into the circumstances and catalysts of the riot.