Protesters decry conditions at St. Louis jail, call for court hearings
"This needs to be addressed and no one else is addressing it. These detainees are crying for your help," an organizer said
---
By Rachel Rice
St. Louis Post-Dispatch
ST. LOUIS — About 50 protesters gathered Monday outside the St. Louis City Justice Center demanding better conditions for those held inside and court dates so that their cases can proceed.
The group first met at City Hall and then crossed Tucker Boulevard to stand outside the downtown jail, decrying the conditions there and chanting the need for court dates for pre-trial detainees. Some detainees have said they don't feel they've gotten adequate care during the COVID-19 pandemic, nor adequate nutrition.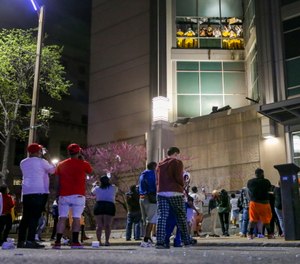 "This needs to be addressed and no one else is addressing it," organizer Sarah Avery said. "These detainees are crying for your help."
City officials say some changes have taken place in the wake of several uprisings at the jail. During recent disturbances, including the most recent on Easter Sunday, detainees jimmied their locks and broke out of their cells.
Since the city's Corrections Task Force submitted its report on jail conditions to Mayor Lyda Krewson's office in March, corrections officials have expanded recreational time for inmates. In-person visits have restarted, city officials said, and soon inmates should have the option to video chat with family using portable tablets. Facility locks are being fixed, as well, officials say.
"We have implemented or are implementing many (recommendations)," mayoral spokesman Jacob Long said. "When it comes to the infrastructure of the building, those repairs have begun and are continuing."
The task force is working toward introducing an ordinance to form an oversight body for corrections operations, task force Chairman Darryl Gray said.
"What we're making very clear is the need for subpoena power and the need for unrestricted access (for the oversight board)," Gray said Monday.
Gray said he was encouraged by the response from city officials, including the transition team for incoming Mayor Tishaura Jones. But he hopes for more communication from the city as the administrative transition takes place.
"One frustration the task force continues to have is that the (aldermanic) public safety committee and corrections did not make it publicly known what recommendations had been implemented or where they were as far as getting those implemented," Gray said. "We continue to hear from advocacy groups and family members of the people detained without having any information to share with them as to what kind of progress is being made."
As for speeding up court cases for pre-trial detainees, St. Louis Circuit Court spokesman Thom Gross said jury trials that were postponed because of the pandemic had resumed in late March. He said the court doesn't have control over some factors that may keep detainees held for longer periods, such as whether they have legal representation.
"We're moving as fast as we can given the constraints set by the Missouri Supreme Court, the ( Centers for Disease Control and Prevention) and the city health department," Gross said.
___
(c)2021 the St. Louis Post-Dispatch
McClatchy-Tribune News Service