N.Y. COs union, lawmakers call for pause on HALT solitary legislation
"Doing away with special housing for violent offenders just doesn't work," said State Assemblymen, and former CO, Billy Jones
---
By Cara Chapman
The Press-Republican
        
PLATTSBURGH, N.Y. — Citing rising violence in the state's prisons, the union representing correctional officers and the tri-county's state representatives expressed support Tuesday for pausing full implementation of the Humane Alternatives for Long Term (HALT) Solitary Confinement Act, set to occur later this week.
In a press release, the New York State Correctional Officers and Police Benevolent Association said violence in correctional facilities had increased 124% over the last decade, and pointed to state Department of Corrections and Community Supervision data showing assaults — which include instances where no injury occurred — against staff reached a record number of 1,173 in 2021.
"The state's assault numbers speak for themselves," NYSCOPBA President Michael Powers said in a statement.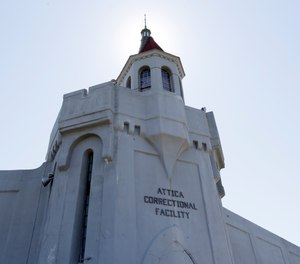 "Sadly, over the past calendar year, our members suffered from some of the most vicious, unprovoked attacks our organization has ever seen. Along with the increased violence, the glaring absence of confinement options and the continued under-staffing of our facilities, the state cannot in good conscience move forward with the full implementation of HALT."
15-DAY SPECIAL HOUSING LIMIT
Signed into law on March 31, 2021, the HALT Solitary Confinement Act limited the use of segregated confinement to 15 days, implemented alternative rehabilitative measures, expanded the definition of segregated confinement and eliminated the practice's use for vulnerable incarcerated populations, according to a press release on Senate passage of the bill.
"Prolonged segregated confinement can cause permanent harms and does not properly address the root causes that lead to the punishment," Senate Majority Leader Andrea Stewart Cousins (D-Yonkers) had said in a statement.
State Sen. Dan Stec (R-Queensbury) and State Assemblymen D. Billy Jones (D-Chateaugay Lake) and Matt Simpson (R-Horicon) all voted against the legislation. On Tuesday, they voiced support for NYSCOPBA's call for a pause.
Jones, a former corrections officer, said he brings a unique perspective to the issue, having worked in correctional facilities and, within them, special housing units for a number of years.
"You have to separate violent offenders from other people within the facility," he said. "What do you do if you can't make that separation? What do you do with two members of opposite gangs that get into a confrontation or several confrontations? You have to have other areas within the facility to house them."
UNTRUE PICTURE
Simpson said the bill's sponsors presented an untrue picture of what special housing units look like.
"They're presenting it as 'solitary confinement.' It's a cell just like every other cell and every inmate that is in that unit has all the things that are available to the other prisoners. They still have outdoor recreation, they have personal visits, they have headphones, radios, privileges at the commissary."
According to Stec, during debates on the bill last year, the HALT Act's sponsor incorrectly said COs had the ability to just throw inmates into special housing.
"It isn't that free and loose; there's protections and procedures and policies," he said, likening the process to a mini court system. "This is all highly regulated and highly monitored."
TOOL FOR DETERRENCE
NYSCOPBA listed several examples of inmate-on-staff violence that occurred in 2021, including a female civilian staff member who was nearly sexually assaulted in Green Haven Correctional and an Attica officer who was stabbed in the chest near his heart with a sharpened piece of metal.
Powers said the union believes there is a direct correlation between the reduction of disciplinary procedures within the prisons and the rise in violence, and that HALT would only exacerbate the issue due to its limits on durations in segregated confinement.
Stec said special housing is an important tool for deterrence and safety of both staff and inmates; Jones concurred.
"Doing away with special housing for violent offenders just isn't — it doesn't work and it doesn't keep our correction officers, personnel or other inmates safe within those facilities," Jones said.
DOCCS, HOCHUL CAN'T PAUSE
DOCCS said neither it nor Gov. Kathy Hochul have the unilateral ability to pause the HALT act's effective date, and the legislation's measures would be fully implemented on Thursday.
In addition to intensive preparations, earlier this month DOCCS initiated HALT's out-of-cell program components for both special housing units and residential rehabilitation units at various facilities.
"It is our hope that the out-of-cell programming offered in the residential rehabilitation units as a result of this law will have a positive effect on the population and lead to safer correctional facilities across the state," the agency said.
FACILITY SAFETY
Both Stec and Jones noted questions posed about acting DOCCS Commissioner Anthony Annucci's ability to keep the state's correctional facilities safe.
But DOCCS pointed to measures implemented in an ongoing effort to do so for both staff and inmates, including millions invested in the installation of fixed camera systems and microphones, and body-worn cameras in select facilities.
Other initiatives included de-escalation tactics training for security staff and a pepper spray program. The Office of Special Investigations was created to investigate abuse allegations and other matters.
In November, Annucci sent a memo to the incarcerated population, first touting his work to put a human face on inmates before decrying serious assaults against staff and promising DOCCS would do everything in its power to keep everyone in the facilities safe.
"I have over 37 years of experience in this agency, and while there has always been the occasional very troubling incident, the trend I am seeing of late, in terms of the sheer savagery of the assault, the randomness of the assault and the lack of any precipitating event before the assault, is extremely disturbing," Annucci wrote. "This will not be tolerated."
BILL, TASK FORCE, LAWSUIT
NYSCOPBA supports legislation that would establish a temporary commission tasked with studying and making recommendations on violent incidents in the state's prisons. Jones has cosponsored the bill, which was reported to the Assembly Ways and Means Committee earlier this month.
In December, a Prison Violence Task Force comprised of representatives from the correctional facilities, unions and the DOCCS Central Office was created with the aim of evaluating and developing recommendations to enhance safety and security, DOCCS said.
The first meeting took place Feb. 25, with the next scheduled for April 4.
"Following discussions during the first (task force) meeting, members are currently investigating recommendations, technology and equipment, and drafting policies for implementation," the agency said.
But according to NYSCOPBA, none of the security measures discussed "pertain to HALT or immediately improving conditions to quell the violence."
"NYSCOPBA will continue to work with DOCCS to generate ideas and programs that will help reduce violence in facilities, ultimately violence is an issue the department is tasked with solving," the union said.
A federal lawsuit filed by NYSCOPBA against New York State in May 2021 to overturn HALT, on the grounds the law violates union members' civil rights, is pending.

(c)2022 the Press-Republican (Plattsburgh, N.Y.)
McClatchy-Tribune News Service