5 essential components of an effective recruitment strategy
The current climate has only added to long-standing recruitment challenges
---

Editor's note: Correctional facilities cannot find enough corrections officers to staff our nation's prisons and jails. As older officers retire and experienced COs quit, hundreds of CO positions are waiting to be filled. This special coverage series, "Corrections Recruitment Toolkit: Strategies for hiring COs," provides recruitment strategies correctional facilities can deploy to tackle the staffing crisis head-on.
Recruiting corrections officers and other facility staff has never been easy. The stressful and dangerous nature of the work can take a mental and physical toll, pay isn't competitive within the public safety field or compared to other industries, public opinion of the profession is low, resources are limited and hours are long.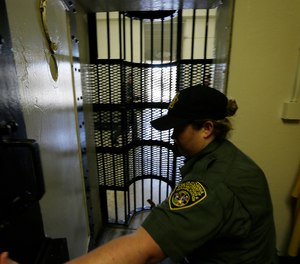 The current climate has only added to these recruitment challenges. A very low national unemployment rate (3.6%, the lowest since 1969) has created an even more competitive job market and many facilities face dire understaffing levels, making the job even more demanding and less appealing.
In its report, "Building a High-Quality Correctional Workforce," the RAND Corporation put together a panel of experts in the corrections field to weigh in on the many staffing challenges facing the profession today, including how agencies can better recruit much-needed new staff members. Here are five essential components of an effective recruitment strategy as detailed in the report.
1. Consider your image
What story are you telling the public and potential candidates?  Many of the experts on the panel suggested that the corrections profession has a PR problem. Much of this is related to the insular nature of the profession, with little information sharing with the public and media coverage only occurring when something negative occurs.
Agencies should build a relationship with their local media and share good news – not combat it – when they can. Agencies should also share their stories directly with the public (and in the digital age, you have many platforms that enable you to do so). Illustrate the challenges the profession faces, the successes and how the profession works to protect the community. What sharing does is help agencies write and control their own narrative. When agencies are silent, someone else tells the story for them.
Image is not just about correcting overall public perception, it's also about broadcasting a clear vision and purpose to your potential candidates. Focusing only on the law enforcement aspect of the job does a disservice to it and makes the job less appealing for many people. As the RAND report states, many agencies emphasize the custody and control component of the work instead of focusing on the rehabilitation aspect:
"Although these objectives are not mutually exclusive, the focus on security reinforces the view that the role of the corrections officer remains primarily custodial in nature."
Selling the role of corrections staff member as an opportunity to have a positive impact in the community by playing a vital role in helping the incarcerated make the behavioral changes they need to be successful members and contributors to society – the rehabilitation component – has the potential to greatly increase your candidate pool.
The Miami-Dade Corrections & Rehabilitation Department, which competes for candidates with numerous other law enforcement agencies throughout south Florida, identified a need last year to more actively illustrate and promote their image.
"In prior years, MDCR was very reactive instead of proactive when it came to our hiring strategies. We would open our non-certified position up, and whoever saw the post was able to apply," Juan Diasgranados, MDCR Public Affairs Manager told Corrections1. "We realized that many in the community were unaware of who we were or what we did, so last year, we developed an aggressive campaign to let the south Florida community know that MDCR is not just a job, but a fulfilling career. We also have several specialties within our department for those who do not want to work in the jails including our Monitor Release unit, Boot Camp, K9 and more. We want all of our applicants to know that we are a large department with endless possibilities and room for growth."
2. Give employees a more active role in decision-making
According to the RAND report, many panelists believe the profession needs to do more to cater the job to the younger generation now entering the workforce. One of the biggest components to doing so is giving employees a more active role in policy and decision-making discussions.  
Younger people want more say and input in the various operations of the business, and that means reexamining the paramilitary structure currently found in most correctional environments. This doesn't mean you have to upend the structure entirely, it could simply mean adding a "suggestions and comments" box, conducting surveys and focus groups with line staff, or having open-door time. The point is to get those at the lower levels more involved and feeling like their voice is being heard.
3. Add incentives
A corrections career doesn't pay very well, particularly entry-level starting salary (which, according to the RAND report, most potential candidates are paying more attention to vs. potential earnings over a career). Agencies should consider adding incentives to make the work environment more attractive.
For example, MDCR provides tuition reimbursement for corrections staff. The state of Maryland started offering a $5,000 recruitment bonus to new hires to try to combat its staffing crisis.
The RAND report panelists suggested agencies should consider subsidizing transportation, childcare, or housing. Looking at adding more flexible positions and work hours – such as creating part-time opportunities or specialized roles – could also widen your candidate pool. In the age of the gig economy, many people are looking for flexible roles and hours.
4. Be proactive
Being proactive is a vital component of an effective recruitment strategy, and there are many options available to agencies for capturing job-seekers. Last year, MDCR created tri-lingual promotional materials such as a recruitment video, posters, palm cards and banners. The recruitment video highlighted the agency's facilities, specialty units and – perhaps most important – staff diversity.
"What we found was, not only were applicants excited to see the endless possibilities within our department, but current staff felt a great sense of pride," Diasgranados said. "They were happy to see our department showcased in video format and they took it upon themselves to send it to their friends and family and social media networks."
MDCR also developed a relationship with their local colleges and universities and attended campus job fairs and career days.
"It was tough," Diasgranados said. "We started from scratch. We had never created a video, and we didn't have the relationships at the college level. It took some time, but we are now reaping the benefits of our aggressive campaign. The folks who applied in the fall have been interviewed, passed our background process and are now entering our academy."
MDCR also started utilizing social media.
"We had to be smart about how to best reach today's applicants pool: millennials and generation Z," Diasgranados said. "Let's be honest – we know that the average applicants in today's age are constantly on their phones and use social media several hours a day. So we aggressively targeted that audience by using Twitter and Facebook to promote our department and all of the great things we do for the community."
The RAND report calls for agencies to consider hiring professional recruiters if existing staff struggles to perform the task effectively. The panelists also called for agencies to work together to develop an online system that enables candidates to apply for multiple positions across jurisdictions simultaneously.
5. Review barriers to entry
Are there barriers to entry that could be removed without threatening the quality of your candidate pool? The RAND report's expert panel believes many of the things used to screen candidates aren't evidence-based. Review the efficacy of screening criteria such as age restrictions, restrictions related to criminal history or prior drug use, psychological tests, personality profiling and fitness tests. In the case of criminal history, the report suggests moving to a case-by-case hiring decision may be better than blanket restrictions.
How long is your hiring process? Reducing the time to hire can also go a long way to widening your applicant pool – many individuals seeking work cannot afford to wait through a lengthy hiring time. The report uses the example of the Arizona Department of Corrections, which reduced their process from 120 days to 39 by eliminating unnecessary tasks like reference checks.
CONCLUSION
The hiring landscape is the most challenging and competitive it has been in years, but the above five components will go a long way in helping your agency better attract a wider pool of candidates. No matter what strategies you ultimately employ, it's important to remember that successful onboarding and retention are also key to an effective recruitment strategy – your officers could be your best recruiters.