Improving staffing and security in North Carolina prisons
North Carolina researchers reviewed nationwide prison management practices to develop solutions to recruitment and retention challenges in corrections
---

Editor's note: Correctional facilities cannot find enough corrections officers to staff our nation's prisons and jails. As older officers retire and experienced COs quit, hundreds of CO positions are waiting to be filled. This special coverage series, "Corrections Recruitment Toolkit: Strategies for hiring COs," provides recruitment strategies correctional facilities can deploy to tackle the staffing crisis head-on.
By Caitlin Saunders and Joel Rosch, C1 Contributors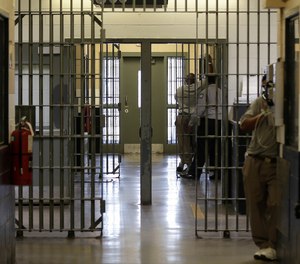 In 2017, the North Carolina Governor's Crime Commission commissioned us to review best practices in prison management. Our research focused on:
Research methods included interviews with a variety of states and corrections organizations; an academic literature review; and conversations with corrections professionals, law enforcement and community stakeholders in North Carolina.
In the report we generated from our research (available in full below), we make recommendations for urgent action to improve staffing and security in North Carolina prisons. This article provides an overview of those recommendations, which while specific to North Carolina are also potential solutions for similar issues faced by correctional facilities nationwide.
GENERAL RECOMMENDATIONS
Invest in personnel
Strengthen leadership by developing a clear mission and improving standards for all management levels through mandatory management training.
Incentivize career commitment by coupling professional development opportunities with appropriate compensation, and having supervisors create individual professional development plans for each new hire.
Prioritize employee wellness by establishing executive wellness committees, tracking improvements in staff wellness relative to a baseline and designing wellness programming based on assessment results.
Bring all hands-on deck to recruit new staff by forming recruitment committees, offering referral bonuses and other incentives, and creating a professionally produced recruitment video. Track the results of recruitment tactics to identify those that result in highest long-term yield.
Establish cohesive organizational culture
Support organizational learning by utilizing more communication tools such as email, message screens and hotlines; formalize operations feedback committees at each facility: establish an agency mechanism for sharing feedback following an incident; and establishing consistent policy for prison management walk-arounds.
Modernize training by continuing to require completion of correctional officer basic training prior to starting work, extending the training period for new hires, updating basic training to reflect the needs of modern facilities and inmate characteristics, and increasing flexibility in job assignments.
Improve facility safety
Modify oversight and intelligence gathering by creating an oversight body separate from corrections, further strengthening intelligence-gathering capacity and fostering better coordination between corrections investigators and local law enforcement.
Enhance perimeter security by installing additional tools to detect and block contraband being thrown over fences and tightening security procedures at facility entrances.
Launch a year-long cell phone interdiction initiative that combines cost-effective cellphone detection technologies with increased random and targeted searches. Track results and cost savings, and partner with other states to monitor and advocate for federal policy solutions.
KEY FINDINGS
Improve recruitment
Using existing employees is an effective recruitment strategy. Some states found that using family and friendship networks leads to higher yields and higher employee retention.
Evaluating recruitment tactics in terms of long-term yield allows recruitment resources to be targeted for long-term success. Analysis also helps fine-tune recruitment to fill positions at different kinds of institutions.
Pay attention to branding. Public perception of the organization has a large impact on recruitment. Branding should be honest, attractive and consistent across all platforms (website, social media, videos and print). We need to improve the perception of corrections as a career.
Recruitment incentives are helpful in difficult-to-staff facilities and geographic areas. Incentives mentioned by other states include housing assistance, tuition reimbursements and employee referral bonuses.
While college degrees are not necessary, and may even diminish job satisfaction for correctional officers, some states find that rewarding increased training and education when considering promotions leads to more professionalized staff. This increases the perception that work in corrections is a career and improves retention.
A written exam is a component of candidate screening in many states.
Enhanced retirement, health insurance and career ladders describing possibilities for advancement, as well as starting salaries are effective recruitment tools.
Review training of prison employees
Staff training focused on a human service approach balances the treatment and custody functions of correctional workers, improves the overall prison climate and increases a sense of professionalism, which can improve retention.
Other states have shifted their training focus to communication techniques, identifying and addressing mental health needs, threat assessment, calling for assistance and de-escalation techniques. They find that these skills better align with the daily activities of a correctional officer, which improves morale and can reduce the need to use force.
Training should include emphasis on the dangers of using transactional (reward and exchange) power, which lead to corruption. This is a key issue in both training and personnel
Correctional organizations should develop career ladders that reward increased training and education with both salary and promotions. This helps people see work in corrections as a career and helps reduce employee turnover.
Monitor and address correction officer wellness
Establish cohesive organizational culture
While salary must be competitive, intrinsic incentives like the work environment are better predictors of staff turnover than salary levels.
Setting clear goals and fair policies, including staff in decision-making, maintaining open communication and transparency, and providing adequate support and respect are essential for improving staff retention.
Expand communication channels through live social media, Q&As with corrections administrators, large screens in prison staff areas to broadcast updates and announcements, call-in hotlines for recorded updates, and required staff meetings. All these improve moral and foster a sense of professionalism.
Involving staff in developing operational improvements and training content empowers staff and improves organizational commitment.
Improve staffing at facilities
Better coordination between human resources and the training office helps plan for adequate training capacity and allows training to be prioritized for prisons with highest staff vacancies.
Collecting data on why staff leave and where they're going helps an agency identify necessary retention improvements.
Inadequate staffing is a major source of low morale, correctional officer injuries and staff turnover. It also leads to an increase in mandatory overtime
Overtime is expensive and leads to burnout and misconduct, yet staff in several states have grown dependent on it for the additional income it provides.
The number of women in corrections (at both male and female facilities) continues to increase but is not yet proportionally represented in leadership.
Implement measures to detect and address staff misconduct
Most misconduct referrals come from management teams; thus, well-trained managers are essential.
Well-trained management improves trust and loyalty among staff, so employees won't look to inmates as willing sympathizers.
For enhanced candidate screening criteria to be effective, channels for reporting staff misconduct must also be improved.
Regular warden walk-arounds and compliance inspections reduce opportunities for inappropriate interactions between staff and inmates.
Proactive intelligence gathering can predict dangerous situations or correctional officer misconduct.
Implement security procedures to interdict contraband and reduce employee misconduct
Advanced contraband detection technologies are not effective without adequate staff and training.
Technology alone is never 100% effective at detecting contraband and should be combined with other deterrence strategies such as random searches, drug testing, facility design and canine units.
The most stringent search policy identified included random cell and living area searches monthly; common area search daily; quarterly unannounced entire facility searches by a special response team; random staff shake-downs twice a year; and quarterly vehicle searches with canine units.
Using higher staff rank and rotation improves facility entry security.
Several states are actively engaged in federal cellular communications policy advocacy to ease the financial and regulatory burden on state prisons.
Strategies that lower expected gains and raise potential penalties deter staff from smuggling contraband.
Adding executive staff focused solely on overall prison system safety, such as an Inspector General or Chief Interdiction Officer, can improve the effectiveness of contraband interdiction and misconduct deterrence, and mend public confidence.
Building in a continual improvement system
A common theme throughout our research was the importance of capturing and analyzing data. Implementation of any recommendations should be carefully tracked and evaluated to establish whether the desired outcome is achieved, and if not, to provide evidence for additional policy adjustments.
Crime Commission Prison Report by Ed Praetorian on Scribd
---
About the authors
Caitlin Saunders is a research strategist for the NC League of Municipalities, which works to promote effective local government and great hometowns through policy advocacy, consulting, training, insurance, and other services. She was previously a lead researcher at Duke University Sanford School of Public Policy.
Joel Rosch, PhD, is a senior research scholar and policy liaison at the Center for Child and Family Policy and an adjunct professor in the Master of International Development Policy program at Duke University Sanford School of Public Policy. His present research interests focus on the structure of service delivery systems and the framing of public dialogue about the effectiveness of public programs.