Ala. county to provide inmates with tablets
Each inmate will be assigned one, which can be used to read books, make calls
---
Dustin Fox
The Gadsen Times
ETOWAH COUNTY, Ala. — Inmates at the Etowah County Detention Center will soon have access to new communication technology, educational tools and even entertainment as the County Commission on Tuesday approved a bid for a new inmate communications service provider.
The vote was taken during a special called meeting and authorized a three-year agreement with Securus Technologies, a Texas-based company that provides service to more than 3,000 correctional facilities, according to its website.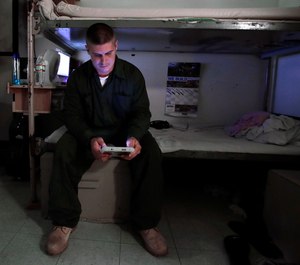 Under the agreement, each inmate will be assigned a tablet device, which they can use to make phone calls, purchase books, enroll in educational courses and purchase entertainment such as movies by paying for the services through their personal commissary funds.
The tablets also provide access to law resources for inmates to use to better understand the legal process.
Access to tablets is not a new thing at the county jail, though. Through the current communications provider, NCIC Inmate Communications, there are 240 tablets available in the jail. However, with about 900 inmates booked in the facility, multiple inmates are having to share the devices.
"The 1-to-1 ratio is really big for us because we want to fix it up where if you come to jail, you're issued a tablet when you come in the door until you leave. That way you've got all the stuff you need, right from the get-go," said Chief of Corrections Keith Peek, adding that there will also be no more waiting for a tablet or finding out that another inmate had more time with the device than someone else did.
"That causes fights," Peek continued.
Sheriff Jonathon Horton said that with access to educational and law resources, inmates also will be able to enroll in courses that will benefit them when they get out of jail. Courses range from substance abuse prevention to vocational training that could help inmates reenter the workforce upon release.
He also said that staff will be able to control what all inmates have access to, and that the system could be used to send messages out to inmates across the facility.
While giving inmates access to movies and technology may be a controversial idea for some, Peek said that it will provide other benefits for the detention center.
"The more things you give an inmate to keep them occupied, the less they're going to tear up our locks, the less they're going to tear up the lighting, the less they're going to tear up the facility," he said.
Inmates can lose their access to the tablets, too, if behavioral issues occur, he added.
McClatchy-Tribune News Service