Mormon Tabernacle Choir director mentors inmate music group
Inmate Ron Kelly considers the program a life saver
---
Associated Press
SALT LAKE CITY — The newest students of the director of the famed Mormon Tabernacle Choir have the talent you would expect to be honed under the guidance of an experienced music teacher. But they come from an unlikely source — Utah State Prison.
Director Mack Wilberg spent months helping members of the prison's Wasatch Music School prepare for a spring recital in June. The inmates performed with instruments donated by the community and sang gospel, county and rock songs. Many audience members said the recital exceeded their expectations.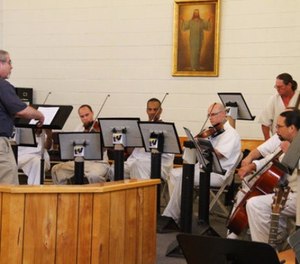 The Wasatch Music School began in 2006 with volunteers dedicated to providing resources to inmates so they could learn to play guitar or piano or sing. The group is co-directed by inmate Roland Pitt, who competed with Wilberg in college, and decided to teach music at the prison to atone for his mistakes.
Seeing the potential of the school's choir, the school's director, David Aguirre, asked Wilberg if someone from the Tabernacle Choir could oversee a master class. To his surprise, Wilberg himself offered to teach the class regularly.
Wilberg admits he was nervous when he held his first workshop with the inmates in February.
"I didn't know what to expect, but that first time I ... looked at all these inmates — I know they have had challenges in their lives — and to see them come together (to sing), I was moved by that," he said.
The group has also responded well to Wilberg's presence, even though he pushes them harder than they have been used to, Aguirre said. He worked with program about once week after Easter. Pitt would take over during weeks Wilberg could not make it.
"It's just been phenomenal, the results he has," Aguirre said. "The men just respond to him. He has such a humble greatness about him. . And that's good for the men to see."
Inmate Ron Kelly considers the program a life saver. He has been at Utah State Prison for almost 35 years and calls himself the program's main recruiter.
"For lack of better terms, I'm kind of the pimp of the music school," he said. "I'm out there asking people, 'Hey, have you ever played an instrument?' . We want this to be a place where people can escape and have peace."
Wilberg said he was impressed by the inmates' passion and dedication for music and plans to continue working with the group.