The whens, whys and hows of force in a correctional setting
Using force inside a prison or jail is different than applying it in the field; here's what you need to know to keep yourself and your job safe
---
Use of force within a correctional setting has its foundation in the 8th Amendment. There are two cases that provide clarity and directions to corrections officers' use of force: Hudson v. McMillian and Whitley v. Albers. These cases define a correctional setting as "where an individual is housed post-conviction."
A court review following a use of force is grounded in a very subjective test, unlike the 4th Amendment standard that has been used to review a police officer's application of force. There have been some changes recently which have expanded the SCOTUS understanding and interpretation of force, more will come out in a future article.
As a new corrections officer, you need to understand the whens, whys and hows of force within your institution. You need to keep in mind the following when you have an interaction that calls for a reasonable application of force: totality of circumstances, department policy and documentation. Organizational policy provides for a framework for when you can use force, appropriately understanding it, is also key to the totality of circumstances, but I will address that use of force policy in the near future.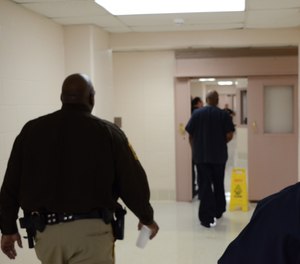 Totality of Circumstances
As an officer, you will have regular contact with offenders and have the ability to easily review both their institutional and criminal history. This can provide a picture of the offender, if they have the propensity to comply or continually create problems for staff.
As a recruit officer, you need to develop a detail-rich narrative on what the offender was doing and why that led to your decision to use force. This can include self-mutilation, assaults against others, assaults against staff, not following orders and displaying violent behavior. The important part is being able to communicate these actions and interactions in a report. Totality of circumstances should also include staffing levels, response time, access to weapons and your ability to control the situation.
importance of Documentation
There are a series of important factors that you need to use to describe the totality of circumstances. This report is different than an offender write up for a disciplinary sanction.
The two reports can be merged, but the focus of a correctional officer's use of force report should describe the reasons they used force. Factors that should not be overlooked are the condition of the living unit, intelligence about the offender that is known to officers, officers versus offenders ratio, the offender's history (known to you), the offender's actions, actions against other inmates in a fight, escort decisions, and, of course, size and skill ability or believed skill and ability.
The reporting officer should not be wary of submitting material that describes their experiences in previous encounters, your own and offender physical capabilities, and other potential options that were considered but not selected along with reasons why.
Describe as much as you can; simple, short sentences do not provide enough career protection in the event that you need to recall the why's of the force application. This will protect you in the long run, in the event that a particular scenario goes south and becomes heavily scrutinized not only by those in the industry but also in the media. Do you want to have your name attached to the test case?
a detail-rich narrative
Within a correctional setting, force occurs on a regular basis. Offenders are subject to searches, cuffing and escort holds. Correctional professionals need to understand and demonstrate in a written format the totality of circumstances when they used force.
Videos do not provide for complete clarity of the incident and, absent a detail-rich narrative, can sink or elevate the understanding of the application of force. The written language should be clear and simple. Officers should provide a complete demonstration of offender behaviors, pre-contact cues, offender history, perceived offender fighting ability, fitness, number of potential assailants, back up and response time.
Department policy should be followed when at all possible with the application of force, specifically controlling force. The goal of any correctional officer is to go home the same way they left home. 
This article, originally published 09/11/2015, has been updated.