How video can transform inmate visitation
Once a properly-implemented video visitation becomes the norm at a correctional facility, contraband issues decrease while security improves
---

Editor's note: Video technology is impacting every facet of modern-day life, shaping the delivery of education and training, transforming how we communicate with each other, and advancing surveillance and security. This special coverage series, Video in Corrections: How Technology is Transforming Prison & Jail Operations, takes an in-depth look at how correctional facilities can use video to improve both operational efficiency and officer and inmate health and safety. 
By James Careless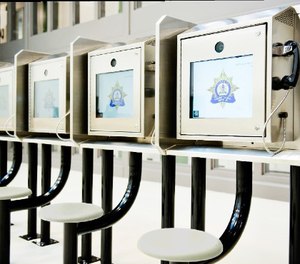 Video visitation programs are gaining popularity at correctional facilities. In these programs, inmates 'visit' with family, friends and lawyers using two-way videoconferencing systems.
An internet-connected video monitor and webcam are typically housed in a protected metal case, with two-way audio being provided by an attached, hardened telephone handset.
"Our video visitation unit is protected using army-grade steel, and is completely waterproof," said Andy Shu, Business development & National Accounts executive with Black Creek Integrated Systems. "It is virtually immune to inmate roughhousing."
Unlike physical visitation rooms, video visitation stations can be set up anywhere in the facility.
On the inmate side, these stations can be located in the existing visitation room, common areas, or even rolled up to an inmate's cell on a rolling cart.
On the family/friends/lawyer side, stations can be set up in the existing visitation room, in a new space inside or outside of the jail, or even off-site at local public buildings.
The fact that video visitation systems run over the internet allows people to dial in from home as well, and lawyers to contact inmates from their law firms. (The recording functions that come with video visitation systems can be disabled to protect law/client privilege.)
Why video visitation makes sense
There are three major reasons to establish video visitation systems; either as a supplement to or a replacement for traditional in-person visiting.
1. Video visitation improves contraband control
Video visitation helps stop the supply of drugs, weapons and other contraband to inmates from visitors. In a video visit, the two sides are never within the same physical space, so contraband transfer is impossible.   
2. Video visitation is safer for COs, inmates
The second reason to use a video visitation system is enhanced security for both correctional officers and inmates.
"Video visitation carries the benefit of minimizing inmate and visitor movement within the facilities, therefore assisting with maintaining and maximizing safety and security," said Rachel Vanhoy, director of Business Management with the Mecklenberg County Sheriff's Department in Charlotte, North Carolina.
The agency had its jail's video visitation system installed by GTL.
"The stations are fixed and there are 30 stations that the public can visit from," Vanhoy said.
A case in point: The Anoka County Jail in Anoka, Minnesota, is laid out in a long, linear pattern that requires prisoners to walk considerable distances, in order to reach the in-person visitation room.
"This distance uses up staff time during visitations, and puts staff and inmates at risk during those transfers," said Commander David Pacholl of the Anoka County Sheriff's Office – Jail Division.
To remedy this problem, Anoka County hired ICSolutions to install video visitation kiosks at its facility.
"We constructed a small addition to house the kiosks outside the jail perimeter, due to a lack of space in our facility," said Commander Pacholl. "Meanwhile, the inmates communicate using terminals inside their block's common area, or a portable unit that is brought to them by jail staff."
3. Increased 'visits' improves inmate morale
The third reason to adopt video visitation is to improve inmate morale through increased visits.
Happier inmates make correctional facilities safer for staff, while helping inmates to maintain vital family relationships.
"This is why our on-site video visits are free, with only the remote-location video visits incurring a management charge," said Commander Pacholl.  "We do our best to keep the user cost as low as possible, to encourage people to visit more often."
The Mecklenberg County Sheriff's Department takes a similar approach.
"Each inmate is afforded a free weekly personal/family video visit; an additional online visit can be conducted via an internet-enabled device, at a cost of $12.50," said Vanhoy. "There's also the option of 10 minutes for $5."
First steps to implementing a video visitation program
Given the complexity of installing and maintaining a video visitation system, most jails will hire a third-party supplier like Black Creek or IC Solutions to do it for them.
A reputable supplier will help a correctional facility obtain an adequate number of video visitation stations on both sides of the inmate/visitor conversation, and come up with a payment system that fits the jail's needs; be it running the system on a break-even basis, or using it to raise revenues for the facility.
In the case of the Anoka County Jail, ICSolutions installed and maintains the video visitation system for free, in exchange for the first three years' system revenues. The Mecklenberg County Sheriff's Office also receives "no revenue associated with this program," said Vanhoy. "The vendor made the infrastructure investment and the program is administrated by them."
When it comes to interviewing video visitation vendors, ask for references from prisons and jails already using their systems; and look on the web for any online reviews. As well, "visit and/or call other facilities to determine best practices and ensure buy-in from all of Command Staff," said Vanhoy. "Also choose a vendor that addresses issues timely and gets resolutions quickly – and train and educate your staff in advance of the change."
The bottom line
Whether or not a correctional facility should entirely replace in-person visitation with video visitation is beyond the scope of this article, given the potential civil rights issues that could be raised in any given jurisdiction. But what can be said is that launching video visitation alongside in-person visitation can give correctional facility leaders a chance to 'de-bug' the new system and get users comfortable with it; before deciding to use video visitation exclusively.
One thing seems certain: Once a properly-implemented video visitation becomes the norm at a correctional facility, contraband issues decrease while security improves. If inmates end up getting more visits and feeling happier as a result, so much the better for everyone involved.
---
About the author
James Careless is a freelance writer with extensive experience covering computer technologies.