Federal judge: Evidence shows man was wrongly convicted in 1980 French Quarter fatal slashing
A federal judge is poised to throw out the murder conviction of a John Floyd, who was convicted in the grisly stabbing of a newspaper employee during a sexual liaison
---
By John Simerman
The Advocate
NEW ORLEANS — A federal judge in New Orleans is poised to throw out the murder conviction of a 67-year-old life prisoner in the grisly stabbing of a newspaper employee during a sexual liaison more than three decades ago.
In a lengthy ruling last month, U.S. District Judge Sarah Vance found that the evidence, old and new, adds up to an inescapable conclusion: that John Floyd's confession to the fatal slashing of two gay men over a three-day span in 1980 — one of which landed him a life prison sentence — can't be believed.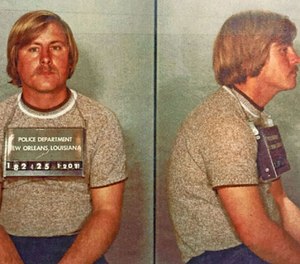 Vance has given Orleans Parish District Attorney Leon Cannizzaro's office until Thursday to respond to a magistrate judge's recommendation that the office either retry Floyd within 120 days or release him from prison.
The former option seems unlikely. All of the physical evidence in the murder of veteran Times-Picayune proofreader William Hines has been lost.
At the time of the killings, Floyd was a drunken, drug-addled drifter who admittedly traded sex for a bed to sleep on and who confessed to the murders of Hines and Rodney Robinson.
Since then, Floyd has maintained that a New Orleans Police Department detective, John Dillmann, plied him with beer and then beat him into those confessions.
Dillmann, now a cold-case investigator with the Lafourche Parish Sheriff's Office, called the allegation "ludicrous" in an interview with The New Orleans Advocate.
"Everybody needs to use common sense. But she's a judge. If she has doubts and wants to order a new trial or release him, that's the day we live in today," Dillmann said. "I can tell you he killed Hines. There's absolutely no doubt in my mind about that, 100 percent."
Police found no physical evidence linking Floyd to either crime scene. But Dillmann, who later wrote a book about the murders — "Blood Warning: The True Story of a New Orleans Slasher" — homed in on Floyd based on threatening boasts Floyd had made about the high-profile murders to denizens of the French Quarter gay scene.
There, they knew him by his nickname: "Crazy Johnny."
Floyd went to trial in 1982, choosing a judge over a jury. Criminal District Court Judge Jerome Winsberg, who is now retired, found him guilty of murdering Hines. Crime scene photos show the proofreader's naked body coated in blood at the foot of his bed in his neatly kept home on Gov. Nicholls Street.
At the same time, Winsberg acquitted Floyd in the eerily similar slashing of Rodney Robinson early in the morning of the day after Thanksgiving. Robinson was found dead in the hallway outside his blood-splattered room in the Fairmont Hotel.
Contrary evidence
Two months after the killings, Dillmann and another officer, John Reilly, tracked down Floyd, then 31, at the Louisiana Purchase bar in the French Quarter.
Floyd first denied his involvement but then confessed that he went "berserk" after each man "told me that he wanted to (have sex with) me." In both cases, he told police, he pulled a 6-inch buck knife from his boot, repeatedly stabbed the victim and ran.
Evidence in Robinson's hotel room, including seminal fluid that did not match either Floyd's or the victim's blood type, and a hotel security guard's testimony that she saw a black man running from the hotel, pointed away from Floyd, who is white.
Floyd's attorneys with the Innocence Project New Orleans have argued that his confessions were both false.
Vance agreed, finding that newly discovered evidence in the case "established that no reasonable juror, after carefully and impartially considering all of the evidence, would find him guilty beyond a reasonable doubt" in Hines' killing.
New evidence of Floyd's innocence in Robinson's murder, including DNA testing of hairs found at the hotel, amount to "overwhelming evidence that an African-American man, rather than Floyd, killed Robinson," Vance found.
Similar evidence in Hines' killing has disappeared. But Vance found that evidence in Robinson's murder, as well as "evidence of Detective Dillmann's improper interrogation techniques" and other factors, discredited Floyd's confession in Hines' slaying as well.
Among the evidence pointing to Floyd's innocence, Vance cited:
• Fingerprint test results showing that the prints on a pair of drinking glasses containing alcohol found beside Robinson's bed were not Floyd's; and that prints from a whiskey bottle on Hines' kitchen table were neither his nor Floyd's.
• A comment by Dillmann to a TV producer that he and another officer "started buying (Floyd) drinks" at the Louisiana Purchase bar before his arrest and confession. The comment, Vance found, supported Floyd's claim that the officers bought him "five or six" beers, not the single beer that Dillmann claimed they bought Floyd to facilitate a smooth arrest.
• The Louisiana Supreme Court's agreement, in a different case, with a suspect's claim that Dillmann led a group of officers who beat him into a confession in 1978, two years before Floyd's arrest.
• Evidence that Floyd has the mental capacity of a 7- or 8-year-old, with an IQ of 59, making him highly susceptible to suggestion.
'Actual innocence'
Vance, who was nominated by President Bill Clinton and named to the federal bench in 1994, endorsed Floyd's "actual innocence" in a Sept. 14 order, finding that his case warranted a rare exception to federal rules that ordinarily bar such late-in-the-game challenges.
Technically, Vance has not yet ruled directly on Floyd's conviction. She sent the case back to Magistrate Judge Daniel Knowles for a formal recommendation.
But her indictment of the prosecution's case prompted swift action from Knowles, who on Sept. 22 recommended that Floyd be retried or released, basing his opinion on the fingerprint test results. Knowles concluded that those results were withheld from the defense in violation of Brady v. Maryland, the 1963 U.S. Supreme Court decision that requires the state to turn over favorable evidence to a defendant.
The rulings came six years after Orleans Parish Criminal District Judge Benedict Willard denied a new murder trial for Floyd. The Louisiana Supreme Court then turned away Floyd's bid for a review on a 4-3 vote.
Emily Maw, director of the Innocence Project New Orleans, which represents Floyd, said police hid the "crucial fingerprint test results" for 26 years, adding that the DNA tests "prove to a near certainty that John Floyd is innocent" in Robinson's murder.
"It is clear he is innocent. The cases are inextricably linked, and the prosecution has yet to articulate why, if he is guilty, every shred of reliable and scientific evidence proves him innocent," Maw said.
"His life is not an academic exercise in whether an illogical conviction can be legally justified. He has served 36 years of a life sentence at hard labor. He is an old man and it is time for him to come home to his family before it is too late."
Christopher Bowman, a spokesman for the DA's Office, declined to comment on the specifics of the case, citing office policy. He said only, "In the event of an unfavorable ruling, we will certainly appeal it."
Vance steered clear of finding that Dillmann beat Floyd during the January 1981 interrogation, in which Floyd told the detective he occasionally worked offshore and was a drug user.
"John, why are you rendering this statement?" Dillmann asked, according to a transcript.
"Because I killed two people and I think I'm sick and need help," he replied.
Floyd said Hines, whom he didn't know, had walked up to him as he leaned against a post on Bourbon Street, and they went to a few bars before Hines took him back to his home.
"I was drinking a lot. I was on PCP and I was mixing it with whiskey," Floyd told the detective. "We went through a gate and into his apartment. We were both drinking. We both got into bed and we had sex. Then he told me that he wanted to (reverse roles) and I went crazy. I had a knife in my boot and I stabbed him a bunch of times."
'Most ludicrous thing'
At his trial, Floyd testified that Dillmann beat him and kicked him into confessing, also threatening to put his "head through the brick wall and throw (him) out through the window."
Floyd's attorneys also blame Dillmann for the failure to disclose the results of the fingerprint test results.
Dillmann, they note, also was the lead detective in the case of Curtis Kyles, whose murder conviction was overturned by the U.S. Supreme Court in a decision that clarified that prosecutors have a duty to turn over evidence that is favorable to a defendant, even if police keep it tucked away in their files.
In his book, Dillmann said he walked into the bar with O'Reilly and found "Crazy Johnny" wearing a "Huckleberry Finn smile."
Of the drinks, Dillmann wrote only that it was his colleague, Reilly, who approached Floyd, whom he knew, offered him a beer and smooth-talked him for about a half-hour before his detention.
"He wanted Johnny in a relaxed and cooperating mood when we asked him to take a ride with us to headquarters," Dillmann wrote.
In an interview, Dillmann scoffed at Floyd's claim that the officers loaded him up on beers.
"There would be no reason for me to buy him two, three, four, five drinks. We were making $500 a month. If I bought him a drink it was to make him comfortable so we could arrest him without being hurt. This guy was so whacked out," Dillmann said.
While detained, Floyd broke down crying, talking about his drug use, then recited details that only someone at the murder scene would know, Dillmann said.
"It's so ridiculous. I'd never met this guy before in my life. It wasn't the Kennedy assassination by any stretch of the imagination. It was a gay murder, and the guy was a little male prostitute," Dillmann said.
To believe Floyd's claim of being beaten into a confession, "You would have to believe I got up that morning and said, 'Well, I'm gonna go get him drunk and bring him back to police headquarters, beat the hell out of him and show him crime scene photos and get him to talk on the tape.' That's the most ludicrous thing I've heard," Dillmann said.
"I don't understand. For a judge to sit up there and say, 'Well, he was beat.' How do you know he was beat? Because he said he was beat? People lie every day."