My Brother's Keeper: Communities give back to COs
An elementary school teacher starts a movement to show COs that their communities care about them
---
By Marsha Griffin, C1 Contributor
My name is Marsha Griffin and I started the group My Brother's Keeper for correctional employees and their families. A lot of people wonder how an elementary teacher from southern Illinois became involved in advocacy for these workers and their families. My husband, along with four other family members, worked at the now shuttered Tamms Correctional Center. I have always known that working in the department of corrections was a dangerous job, but in southernmost Illinois good paying jobs are in short supply.
I always understood the importance for having a correctional center such as the Tamms Correctional Center. Before it was built, inmates rode the circuit and were shuffled from institution to institution when involved in assaults against other inmates or correctional staff. Tamms provided a much needed safety valve and was a strong deterrent for inmates to refrain from violence. When my husband and I first heard the reports that it could potentially close, I simply could not believe it. I have lived in southern Illinois all my life and remembered how hard communities worked to get this prison in the first place.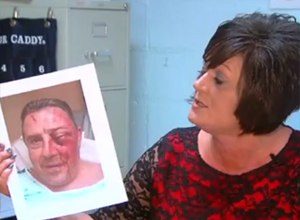 Despite our legislators' efforts and the expert testimony of front line workers at the COGFA hearing, Governor Quinn marched irresponsibly forward with the closure plans. Our hearts were breaking. Not only for all the workers affected by the closure of the Tamms Correctional Center, but the devastating consequences on Alexander County where the poverty level is so high. We were also saddened to hear that IYC Murphysboro was on the list as well as the Adult Transition Center. It was unfathomable that southern Illinois who has so little industry was dealt this cruel blow.
The only thing that what getting us through all this was our tremendous faith in God. God would still be God to us whether or not these facilities closed or remained opened. Five of my family members traveled to the Tamms Correctional Center to pray over the sign leading into the facility one last time. As we pulled onto the property and were praying, one of the officers on perimeter patrol asked us what we were doing there. We told them that we were praying.  Then one of them said, "Why? God hates southern Illinois!" It broke our hearts. I knew I had to do something! I felt compelled to action and I told my mother I know that churches are praying within the confines of their four walls for these employees, but some of them do not attend church. I wish someone would do something! I really felt the strongest feeling of "Why don't YOU do it?" I started right away.
I organized an event to occur on the Jonesboro Square to support all the employees affected by the closures in southern Illinois. I did this with no organizing experience at all and relied solely on spreading the word through Facebook. The whole thing was organized in about five days. The city granted permission to hold it on the Jonesboro Square. Donations for bottled water, a trailer for speakers was donated. The community rallied behind these workers in a way that far exceeded my expectations. The morning of that rally it was 104 degrees and there were nearly 200 attendees. Finally, these employees had tangible evidence that they were loved and supported by their communities!
This was only the beginning. I made lifelong friends and was able to communicate with other correctional employees' family members who were all going through the same struggles. We provided a support system for one another at a time when it seemed that all we had was each other. Then came news from Pontiac Correctional Center that was to serve as a catalyst for the journey I was to take. Tim, a correctional officer that I had never met before, was brutally attacked. I could not rid myself of the image of his fractured face. I felt a connection.
I talked with some of the other correctional families and told them that I wanted to come up with a t-shirt campaign to honor Tim. I set up a group on Facebook and came up with the name My Brother's Keeper. This is taken from the Bible and is the story of Cain and Abel. God knew that Cain had killed his brother Abel and when God asked him Cain replied, "Am I my brother's keeper?" I knew it was the perfect name for my group because as human beings we have a moral responsibility to watch over one another. Even though I have never met Tim, he truly is my brother!
Before I knew it, I was getting messages from all parts of the state of Illinois wanting a t-shirt and to become a member of our group. I was also getting messages from employees about how alone they felt and how thankful they were for our group. My Brother's Keeper has held rallies at many correctional facilities. We have held rallies on the Jonesboro Square, Bald Knob Cross, Shawnee and Vienna, Correctional Center, Big Muddy Correctional Center, Pinckneyville Correctional Center, Centralia Correctional Center and Save Murray Center. We are also planning to go to a rally planned at Robinson, Illinois.      
We have vowed that we will continue to speak out as long as the current administration denies that the issues of overcrowding and understaffing exists. We will be speak out as they continue to classify the over 560 acts of violence that have occurred as "Isolated incidents." My Brother's Keeper group continues to grow because the issues faced by these employees are real. It is not a matter of "if" a riot will occur, but a matter of "when!"
We now have grown to over 2,100 members all across the state of Illinois. We have members from Canada, the United Kingdom, Ireland, and Australia. I believe that this faith based, grassroots effort can become an agent for change. I realize the giant that we are facing by an administration that continues to deny that there are real problems in the Illinois Department of Corrections. I also have the faith to believe that just like a shepherd boy named David who had the faith to go up against that mighty giant Goliath and was able to defeat him because of his faith in God that we too will overcome this giant!
My plan is to visit every correctional facility in the state of Illinois. My dream and vision for this group is that it will compel other community members from across the nation to become involved in this struggle for what is right and have these rallies take place at every correctional facility in the United States. We ARE our brother's keeper!