Ohio killer facing new execution drug wants mercy
Johnnie Baston was convicted in the 1994 killing of a Toledo storekeeper
---
By Andrew Welsh-Huggins
AP Legal Affairs Writer
COLUMBUS, Ohio — A death row inmate who could become the first U.S. prisoner to die from a single dose of a newly adopted barbiturate should be spared execution because his victim's family never wanted a death sentence, his attorneys told the Ohio Parole Board on Thursday.
Johnnie Baston, who was convicted in the 1994 killing of a Toledo storekeeper, was abandoned as an infant, has never seen his mother and has had only sporadic contact with his father, said Robert Barnhart of the state public defender's office. As a boy he would wander the streets with his dog trying to find his mother, he said.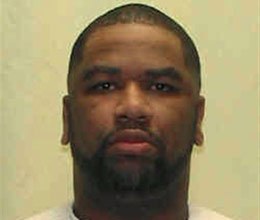 "It is not hard to understand how Johnnie turned from a boy searching for his mother with a dog in tow to a man trying to find family on the streets," Baston's attorneys wrote in documents filed with the parole board.
Baston has given differing accounts of the crime and has suggested at one point that he was present but didn't do the killing. But his attorneys say they don't dispute his conviction.
The parole board is expected to decide next week.
A three-judge Lucas County panel sentenced Baston to die for shooting Chong Mah, 53, owner of Continental Wigs N' Things in downtown Toledo.
Mah's son, Peter, has said in an affidavit the family opposes the scheduled March 10 execution in favor of life without parole.
The state says the three-judge panel was aware of the family's opposition at the time of sentencing. State prosecutors also say Baston has refused to accept responsibility or express remorse.
"These factors were known to the three-judge panel who sentenced Baston to death more than 15 years ago, and do not present viable grounds for a recommendation of clemency today," said a motion presented to the board on behalf of Lucas County Prosecutor Julia Bates.
Ohio plans to use a single dose of pentobarbital to put Baston to death, the first time that barbiturate would be used by itself in a U.S. execution. Oklahoma uses it in combination with two other drugs.
Ohio switched to pentobarbital last month and legal challenges are likely, but are not part of Baston's clemency request.